A happy New Year from all of us in the People's Republic of Photocraft! Evidently there were many resolutions about entering prints into competitions this year because there was an unprecedented number of entries this week: 10 in the beginner's class, and 25 in the advanced.
Judged by John Nathan and ably supported by the Pronouncer-In-Chief Mark Bulle, we learned a few things this week:
Chris Carrick takes a mean monochrome shot – even in the face of stiff competition in the beginner's class this week, he emerged triumphant with his shot of Whitby Abbey:
Whitby Abbey – C.Carrick
David Pelling won the advanced class with his excellent shot of a workshop on Brownsea Island: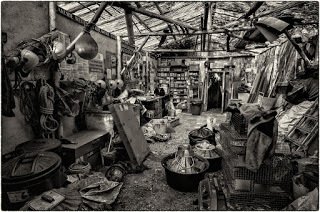 Workshop Brownsea Island – D.Pelling
Images need to tell a "story". Ideally, they'd have a central focal point. A pigeon. Or a person. But not if they have their backs to you.
Some images don't need a person. Some locations are so busy that you have to wait 20 minutes for all of the people to clear off so you get a decent shot. But most need a person.
Printing your images in monochrome can be a pain. Especially if your elephant turns out brown.
Too wide an aperture can make your beak go fuzzy (there's probably a technical term for that).
Mirrors can be confusing.
Matte paper can suppress the vibrancy of an image. Even if it does show the texture of your leaves beautifully.
Lacock isn't in France. And shouldn't be pronounced as such. All together now: "Lay-cock" (https://forvo.com/word/lacock/).
That's all for this week's public service announcement. Happy snapping!