This week's judge was David Harford, who told us he has enjoyed taking monochrome photos ever since he was eleven years old. His passion for monochrome was clearly evident, as was his generosity and determination to highlight the positive aspects of our entries.
All judges have their particular preferences or hobby horses. People sometimes try to identify these in advance. This can sometimes backfire though, as, if you deliberately play to the judge's preferences, you need to do it extremely well!
I thought it might be interesting to try to discover some of David's preferences, as revealed in this week's judging. So, in no particular order, here goes –
Good images (and some of this applies beyond monochrome) should:
be simple | be better in monochrome than in colour | have good contrast | make you think | have good actual black and white somewhere | have fifty (or more!) shades of grey… or sepia | cropout distractions | not be burnt out | not have light areas at the edge | have something of interest in the brightest area | have differential focusing, with the background thrown out of focus | have a level horizon | have a darker base to the image | have lighter areas nearer the top | have enough, but not too many, people | make you think about the relationship between human subjects | have oomph! | have dynamism | lose any bland areas | have eyes in focus | have the focal point crystal sharp | have leading lines to draw the gaze | be taken at the subject's level | be taken close in | have a dark vignette | be uncluttered | not have too much in focus | have strong diagonals | … & even more I didn't manage to capture!
But, intriguingly, this didn't necessarily help us predict the eventual winners of levels 1 & 2. The winning entry in level 1 was a stunning landscape picture, with little contrast but an amazing array of shades of grey. The level 2 winner, on the other hand, was a beautiful 'contrejour' image of a couple of people on a bench, with a well-controlled 'high key' background. They were very well-deserved winners, but it just shows that you can seldom second-guess judges!
Thank you to David and to Martin, our projectionist, and to all of you who were prepared to let your photos be judged!
These were the highest scoring entries (10 & above) –
– Level 1 –
Overall winner – 'Eden Valley dawn' (Graham Simms)
'One careful owner' (Steve Hadfield)
'Boys and their toys' (Chris Heckford)
'The young and the old' (Anna Borsarelli)
– Level 2 –
Overall winner – 'Peaceful moment' (Aodan Higgins)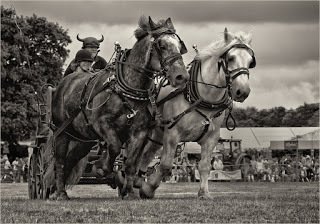 'Chariot race' (David Pelling)
'Experienced fishing hands' (Jane Dunthorne)
Thistles in evening light' (Aodan Higgins)
'Sandtex' (David Pelling)