Have you ever wondered, on competition evenings, how those stunning 10 or 10+ images are created? Some of our members spilled the beans this week. And, surprisingly, you might not have given the original photos a second look! A lot of amazing enhancement went on in post-production.
A whole lighthouse was shifted (not really, of course – it was a Photoshop trick), so that the foreground bollard now satisfyingly pointed to it. An out-of-focus grasshopper was spruced up enough for the judge not to notice. Drama, extra contrast and grain were added to black and white pictures via the excellent free Nik Silver Efex Pro plugin, with its tantalising range of presets. Images were cleverly cropped to cut our distractions, simplify, change the focal point and maximise compositional devices, such as diagonals.
Here are some of the 'before' and 'after' images, showing the magic of skilful post-production:
Before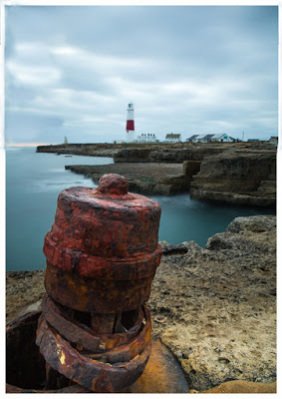 After (Brian C)
Before(Dunstanburgh Castle)
After (Graham S)
When I initially saw these photos – of 'stelae' at the Holocaust Memorial in Berlin – I must admit I started wondering whether it was really appropriate to take photos at such a sensitive location. But the whole purpose of Graham S's post-production (again using Silver Efex Pro) was to portray the meaning of this disturbing and respected place – which I think the black and white image does admirably.
You may have noticed some intriguing photos by David P in the recent blog about night photography. They were semi-abstract images created by ICM (intentional camera movement). At this week's competition discussion evening, David let us into some of the secrets of ICM: set the focus to infinity, use the 'Bulb' shutter setting, use an aperture of f8/f11, a 50 mm lens, ISO 100, a 4 second exposure, no tripod, and deliberately move the camera around in artistic directions. The Carshalton Ponds images were of car lights and street lamps, but the technique also works well at firework displays. I can't wait to try it myself!
A final bit of amazing alchemy was revealed by David S. Plenty of photos are taken of the lake at Stourhead (as some of you did during last summer's outing there), but how many are transformed painstakingly, using bits and pieces from other images, into a Willow Pattern design? Was this art, on David's part, or was this photography or was it a skilful mixture of both? It certainly produced a fine picture!