It has been a couple of years since we invited Royston Williamson of Dorking Camera Club to judge one of our competition. A perceptive and articulate judge giving us a very enjoyable evening, so why did we wait so long?
The outright winner among some strong opposition in Level 1 was Beneath the Pier by Terry H. A beautiful image worth getting wet feet for and good enough to seriously challenge any of the winners in Level 2, so well done Terry.
There were so many excellent entries in Level 2 that many were held back and, ultimately, five awarded 10 points.
It is good to see our monochrome competitions so well subscribed; even better to see some excellent examples spilling over into our open competitions. The first, the 10+ winner, was Camel Guard, a classic piece of documentary photography by David H – an extraordinary subject captured extraordinarily well.
Still classical in concept but poles apart in the monochrome genre was Memories, Dreams and Reflections by Martin F. The composition seems to transcend the sum of its parts imbuing meaning into what is relatively mundane subject matter. Purely photographic.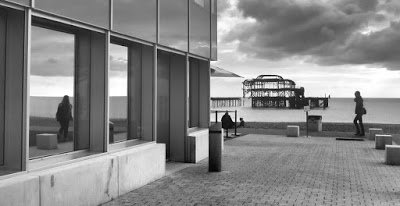 Moving on to colour we had two robins, also poles apart in style. The first, Robin in Flight, captured with characteristic panache by Mandy. Royston said 'capturing birds in flight is not easy'. Bit of an understatement I think.
The other robin, sessile, and enjoying some TLC from a fairy, we had Keeping up Appearances by Dave S in his inimitable style. Maybe he would have got the 10+ if he had bothered to tidy up the paint spilling over the snail shell ;o)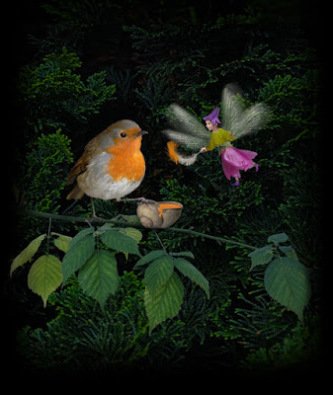 Lastly, a dreamy, impressionistic seascape Incoming Tide by Brian C. It looks like a long exposure from a speedboat, although Brian C assures me it was taken from dry land.
SPA Biennial Exhibition 2018
This exhibition will be at the Guildford House Gallery from 7 – 28 April and well worth the trip if you want to see some of the best work from the camera clubs in Surrey and West Sussex. For more information visit http://www.guildford.gov.uk/article/20923/Surrey-Photographic-Association-biennial-exhibition.
Congratulations to the six intrepid PhotoCraft members who submitted pictures, all of whom had at least one accepted. This is an infrequent opportunity to have your work put on public display and worth the effort (if you are successful, of course!). The exhibition is changed halfway through and we should be informed nearer the time which half will feature the work from PhotoCraft members.
PhotoEntry for print competitions
Now that we are familiar with PhotoEntry and can see the advantages for our PDI competitions, it has been suggested that the system is used for our print competitions too. It will take a little extra effort from members in having to prepare and submit PDI versions of their prints in advance.
However, I think the advantages outweigh this. It would save around 20 minutes or so recording entry titles at the start of the evening as the scorer would already have this information. PhotoEntry can allot a randomised sequence number to the entries which will be presented to the judge in that order. Also, we will all receive a list of the print titles, members' names and awarded scores with a thumbnail of the images soon afterwards, as we do now for the PDI competitions. File the emails and it will be a useful reminder of what you entered and how you did.
If you have any comments about this proposal, please add them to this Blog or make them known to one of the committee members.