Our first Mono image PDI of the season will go down in the history books of Photocraft!
We had an incredible 81 images entered for judging, a new record and actually over the usual limit recommended by the SPA guidelines – which say around 70 is enough.
We contemplated our options and decided to ask our judge for the night, James Godber, what he would like to do. James took the bold decision to accept all 81 entries and so we settled in for what promised to be an interesting and possibly lengthy evening!
Our Level 1 members put forward 48 images. The standard was exceptional and James ensured that every entry was viewed, commented and scored. We saw 14 images held back and offer congratulations to Steve Hadfield for his superb "Gotham City" winning entry.
Our other Level 1 members scoring 10 were:
· Bamburgh Castle – Sharon Thomas
· Lumiere – Benjamin Bull
· Snow face sunken impression – Andrew Clarke
· Escalator – Benjamin Bull
A special mention to Benjamin for a double 10!!
The standard of what we had seen before tea break eventually arrived certainly meant that the 33 Level 2 entries would have to stand up to even harder scrutiny. James once again made the time count and despite telling himself to speed up, it was clear he was enjoying the night and as with Level 1, he was fair in giving all entries suitable time to be assessed. 11 were held back.
Congratulation are due to David Pelling for his winning image, Agave, which got the 10+ award.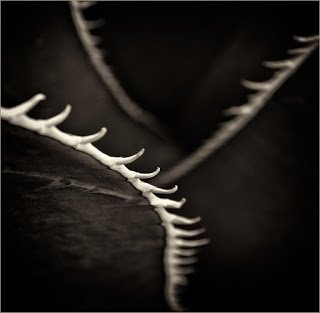 The following also gain a worthy mention for their scores of 10:
· Homeward Bound Separate Lives – David Harford
· Waiting for summer – Philip Richter
· George – Graham Simms
So what did our judge have to say? From where I sat, he seemed to be most concerned about the focal length that many images were taken at. He explained that the choice of focal length is critical in ensuring that the main subject of the photograph stands out from its background. Thus, the lower the number for the aperture opening (e.g f8 and lower), the more of the background away from the main subject will be out of focus, thus stopping our eye wandering around the picture.
He also offered good insight into choosing the right image to convert to mono. We saw some on the night that were not black and white and James stressed that to make these ones stand out, there needs to be the right level of contrast, especially with images of one colour.
All in all, it was a successful evening and this writer is delighted that we now have such a confident membership, willing to put their work forward for comment. 81 entries for mono is wonderful given that it is normally the poor relation to full blown colour. If, as usual, we see a higher number for the next colour PDI, I can only suggest we all bring camp beds as it will be a long night but chances are we will look to bring the entries down to 2 per member so my last item to leave you with is to be sure you number your entries carefully and that your two favourites are numbered 1 and 2 so that your best work will be in the competition on the night.
Till the next time!