The final print competition of the year drew around on Wednesday and with a number of members within a hair's breadth of each other, the evening crackled with anticipation.
The evening was judged by David Mendus and saw a slew of top marks.
In the beginner's class, Chris Carrick saw nothing selfish in walking away with a perfect 30 from his three stunning images.
In the advanced class, there was a 4 way tie for first place. In the end, Mandy Byatt's Starling Iridescence was judged to be the overall winner and pipped the others to the plus:
Starling Iridescence – Mandy Byatt
A special mention must this week be given to the wonders that can be worked with Photoshop. Dave Stoneleigh entered and was rewarded handsomely for his two prints – Strawberry Painter and West Ham Tram. Whereas Strawberry Painter was noted to be very obviously worked on in Photoshop, West Ham Tram blurred the lines sufficiently to put doubt in David Mendus' mind:
Strawberry Painter – Dave Stoneleigh
West Ham Tram – Dave Stoneleigh
David Pelling guiltily entered his take on Constable's The Hay Wain – Flatford Mill playing host to a heinously "dropped" bottle of Coke. Even though the bottle was neatly added post-production, it was deemed to be in a non-optimal position for maximum effect:
A splash of red – David Pelling
Mark smoothly walked away with his second 10 of the season for his excellently shot and undoctored Ice Water Droplet, although his night image – Light Entertainment was thought to be a little too worked upon. Perhaps a little Photoshopping may have been necessary to bump those marks up a little? Ahem.
Ice water droplet – Mark Bulle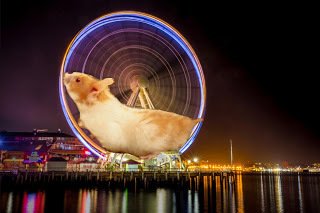 Light Entertainment (and new, furry friend) – Mark Bulle