Wednesday 28 September saw the first print competition of the season, ably judged by Darren Pullman from Carshalton camera
Chris Carrick was awarded the top marks within the beginner's group for his stunning print "Calm waters":
Calm Waters – C.Carrick
Darren commented that the western world reads from left to right, but the picture was drawing the eye from right to left. This was hardly a criticism, more a suggestion for us to look at our photos from every direction, including potentially flipping them over and back to front, to see whether they work better that way.
In the advanced group, there was stiff competition for the top spot. 8 prints got held back for further consideration before David Pelling ultimately emerged victorious, taking two of the three top marks of the evening with his prints "Blistering paint":
Blistering Paint – D.Pelling
and "Pantheon and Palladian bridge, Stourhead":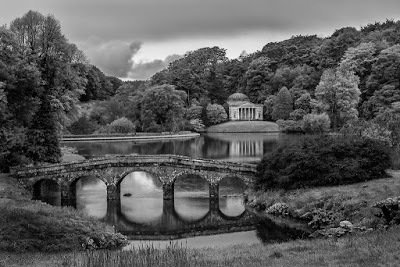 Pantheon and Palladian Bridge, Stourhead – D.Pelling
Philip Richter took the other spot on the podium with his image of a stained glass window in "St Chapelle":
St Chapelle – P.Richter
The stiff competition included "Wonderful encounter" by Jane Dunthorne, causing Darren to stop and think about why a horse should ever be at the top of what looked like a mountain. Despite, or more likely because of the surreal viewpoint, it was held back and emerged with a solid nine points at the end of the night. "Reflecting pool", a night image of the Capitol Monument by Mark Bulle was similarly held back and awarded a nine after Darren decided that the lack of symmetry in the image jarred enough for him to hold back the full 10 points!
Last but not least, the comment of the night was awarded to "Tide's out, people in" by Brian Goodwin – because "Everyone likes a bit of red in a photo." A salient point indeed.