This week one of our group had an idea to hold a competition based on photos taken in an around Croydon. The intent of the competition was to celebrate the various sides of Croydon whether it is the people that make up the bustling area, the parks or the variety of architectural styles to be found there.
A member of the Croydon Camera Club kindly volunteered to judge the photos to give an insiders view and also, as it turns out, the view of an architect who has worked in Croydon at various times over the last 40 years. Thanks to Nina for giving us your time and sharing your opinions on the photos and thanks to Martin for having the original idea and then organising this evening.
There were some great photos to be seen and below are the photos that gained 10 points. (Another new departure for this evening was the final winner is each category was chosen by volume of cheering method!).
Level 1
Merritt, David – Columns and Light (winner)
Randall, Chris – Legalised Graffiti
Randall, Chris – Tram
Level 2
Faiers, Martin – St George's Bride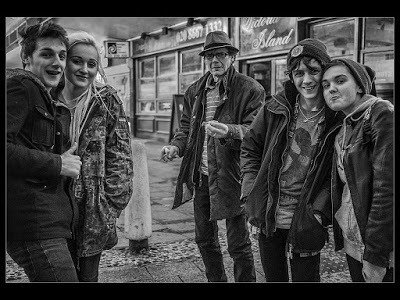 Harford, David – It's Croydon In'It (winner)
Harford, David – Morning Walk Addington Hills Croydon