What a year 2020 was!! The option to have our usual Social gathering was long gone and so we chose to give everyone the month of December 2020 to take and create some images for us all to enjoy as 2021 gets underway.
It was great to see the variety and wit of our members' work once again and we had 49 images to enjoy. A revised scoring method gave members the chance to have an early look at all the photographs and mark accordingly. It was most interesting to note that the entire range of marks from 1 to 10 was used! What would those judges think of that??
We did end up with a clear winner and a good set of runners up but first I think it's good to share some of the images that caught the eye: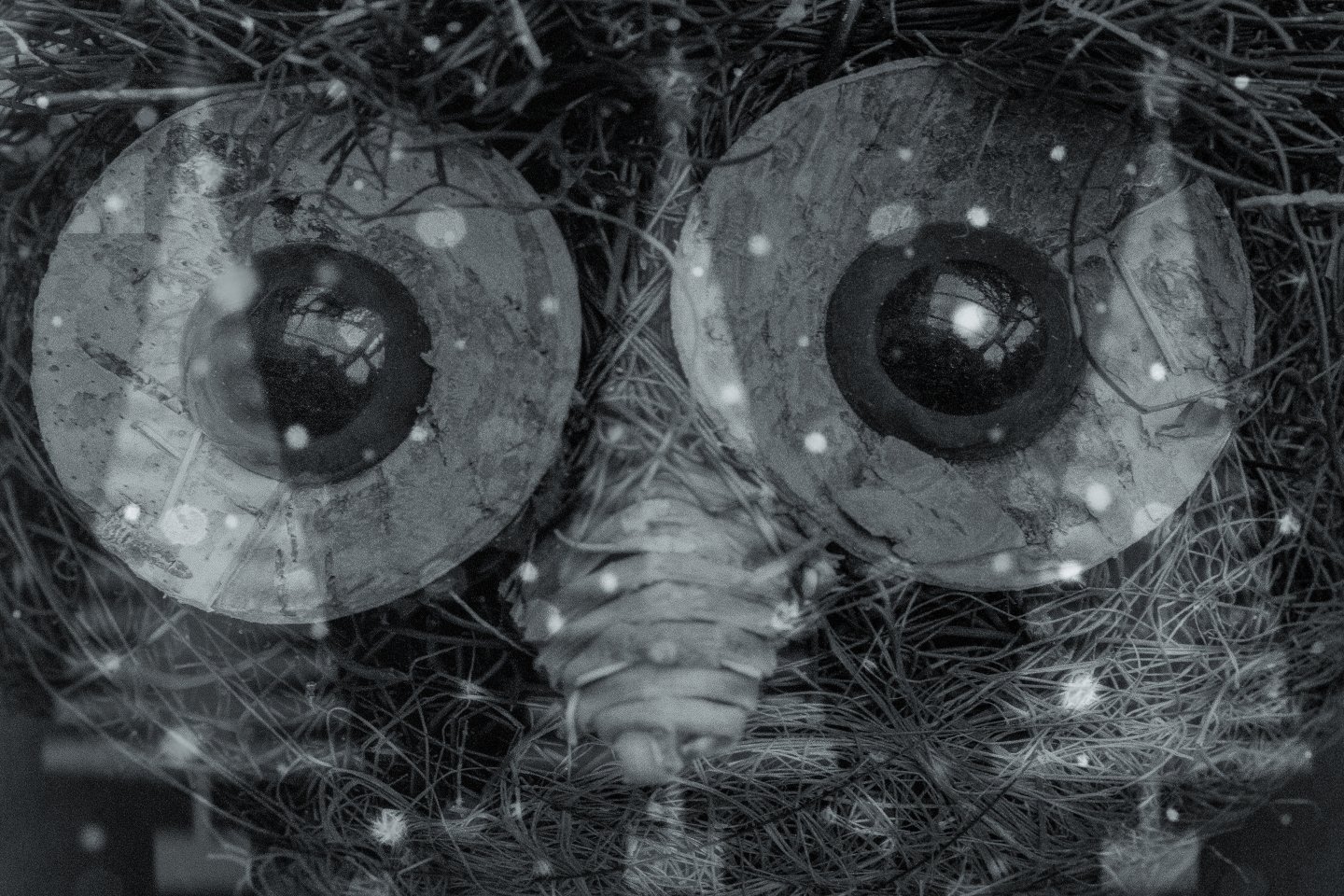 Steve H – Now is the winter of Owl Discontent
A very nice blend of four images from Steve's garden and converted to monochrome to remove the many colours that could have otherwise been a distraction.
David A – Warm Christmas In the Cathedral No. 2
Taken with his thermal imaging camera and also converted to monochrome, David neatly demonstrates how good at heat retention some winter jackets are! Along the left side of the image, around the middle, you can see the white area of heat from the cathedral heating system.
Graham S – Christmas Trees at Standen, National Trust
In place of the usual designer trees and decorations on display, the NT let local members and residents create some wonderful Christmas Trees and the results are excellent. Graham tells us they were more popular than past displays so here's hoping these will continue.
Dave S – Santa enjoys his Christmas Eve lockdown exemption
Once again, we have the great creative talent of Dave S fooling us! A shot taken out of an upstairs window on Christmas Eve to send to a friend who used to live in the house to the right of the image and what does Dave think to do? Yes, you're right! He adds a 50 year old photo of Santa taken on a July day in Croydon whilst Thomas Cook Travel is making a TV commercial. It fooled me 100% as I just thought "What is this guy doing on Christmas Eve, dressed like that?" The shadow looks so real.
And so to the top of the scoreboard: We had a handful of images with an average mark of 8. These are: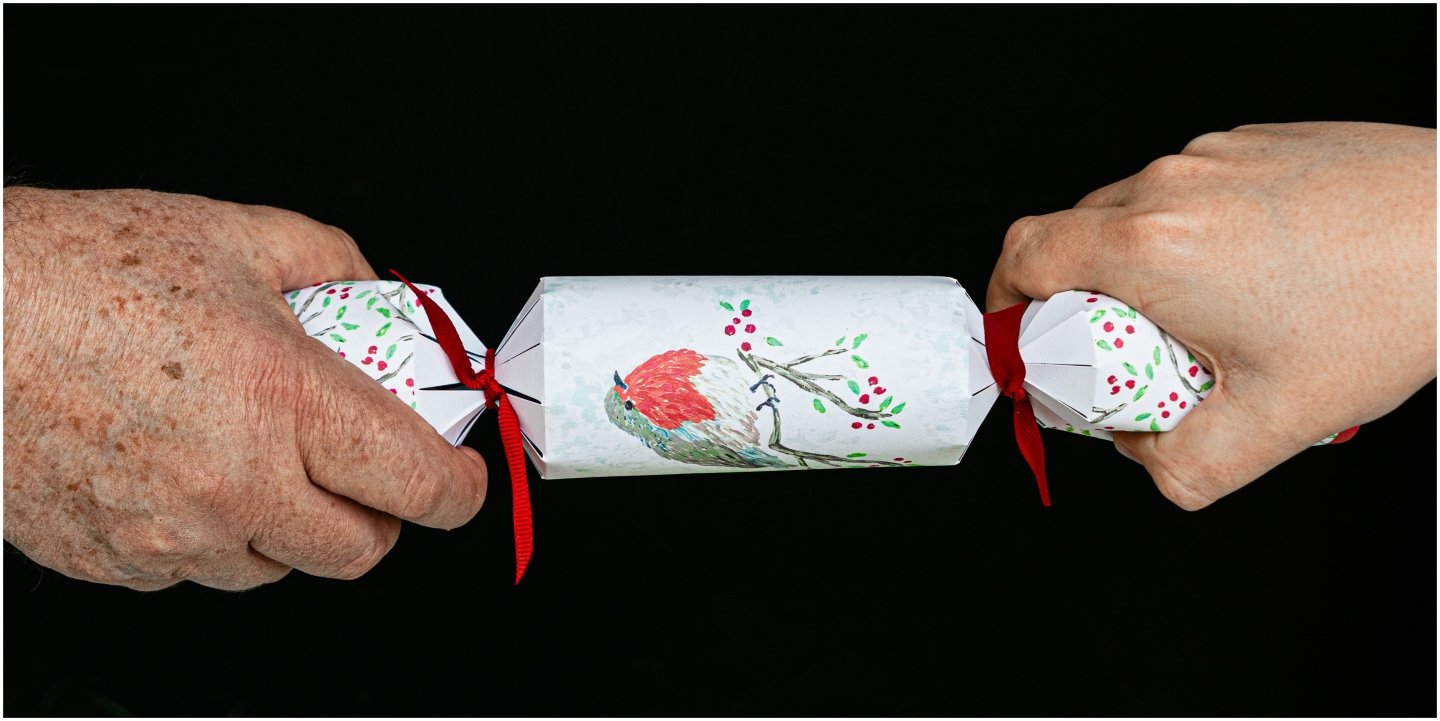 Barbara A – Pulling Together
A terrific image with all the information you want…apart from who got the hat and the joke inside the cracker
Alan M – Christmas 2020 – Locked Up!
Alan and Gill took a drive to Pinewood Close in Addiscombe. Each Christmas, this street is lit by all the residents and displays a multitude of lights to enjoy. Alan saw these two in a window and I think his title captures the expression of Panic on Santa's face! Well seen Alan.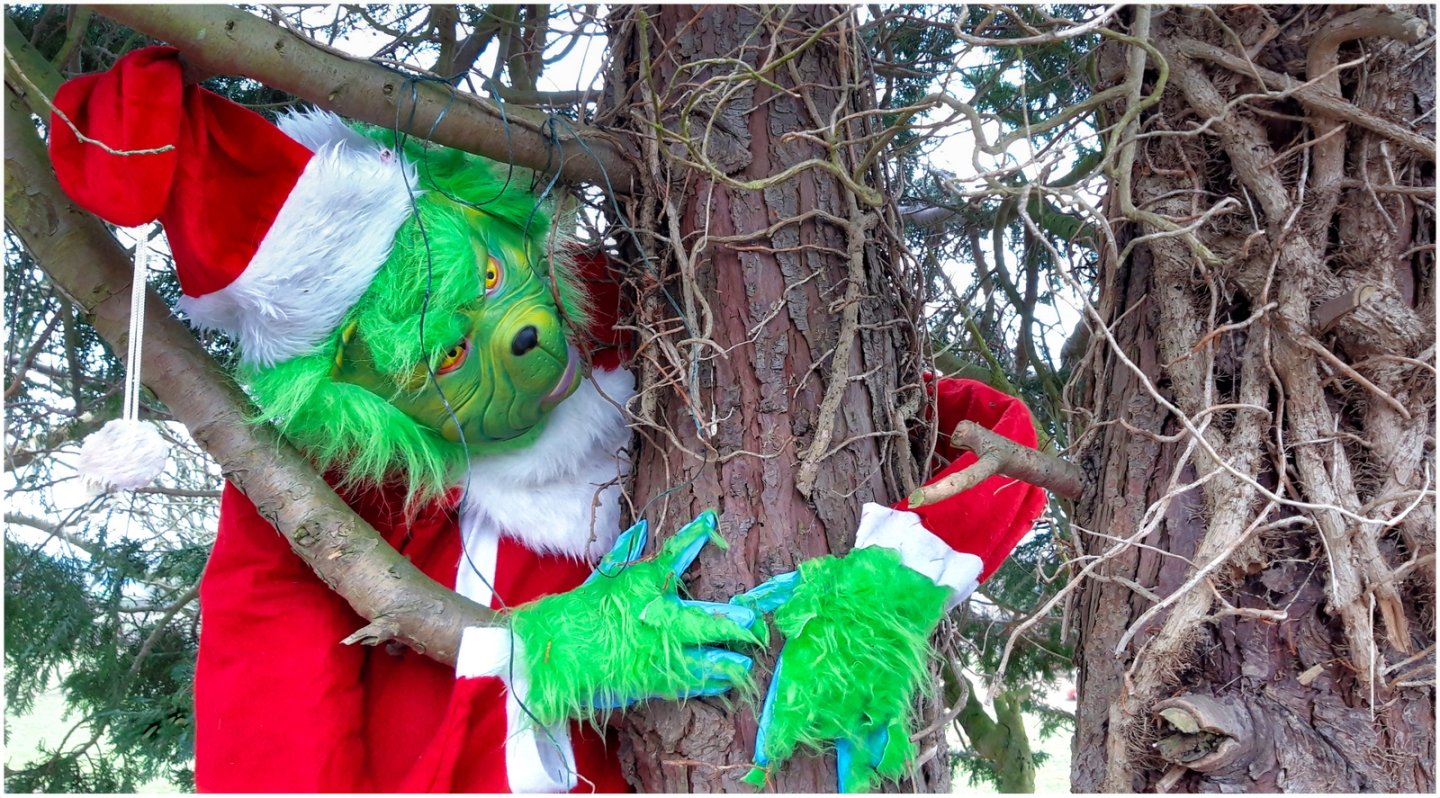 Gillian M – The Grinch Lost out to Covid this year!
Yes, the Grinch will not have been the most unwanted thing for Christmas 2020. This one is up a tree outside a house on the Oaks Track walk and it certainly stands out from the bare branches.
Dave S – Christmas Tree Zoom – On Zoom!
Dave S entered a couple of images that he had taken by zooming in (or maybe out) of the subject and this one was the most popular. I like the way the lights have barely overlapped each other. Dave tells us he does hold steady at the beginning (or end) of the shot to give some clear view of the subject – it can help to know what is in the picture, after all.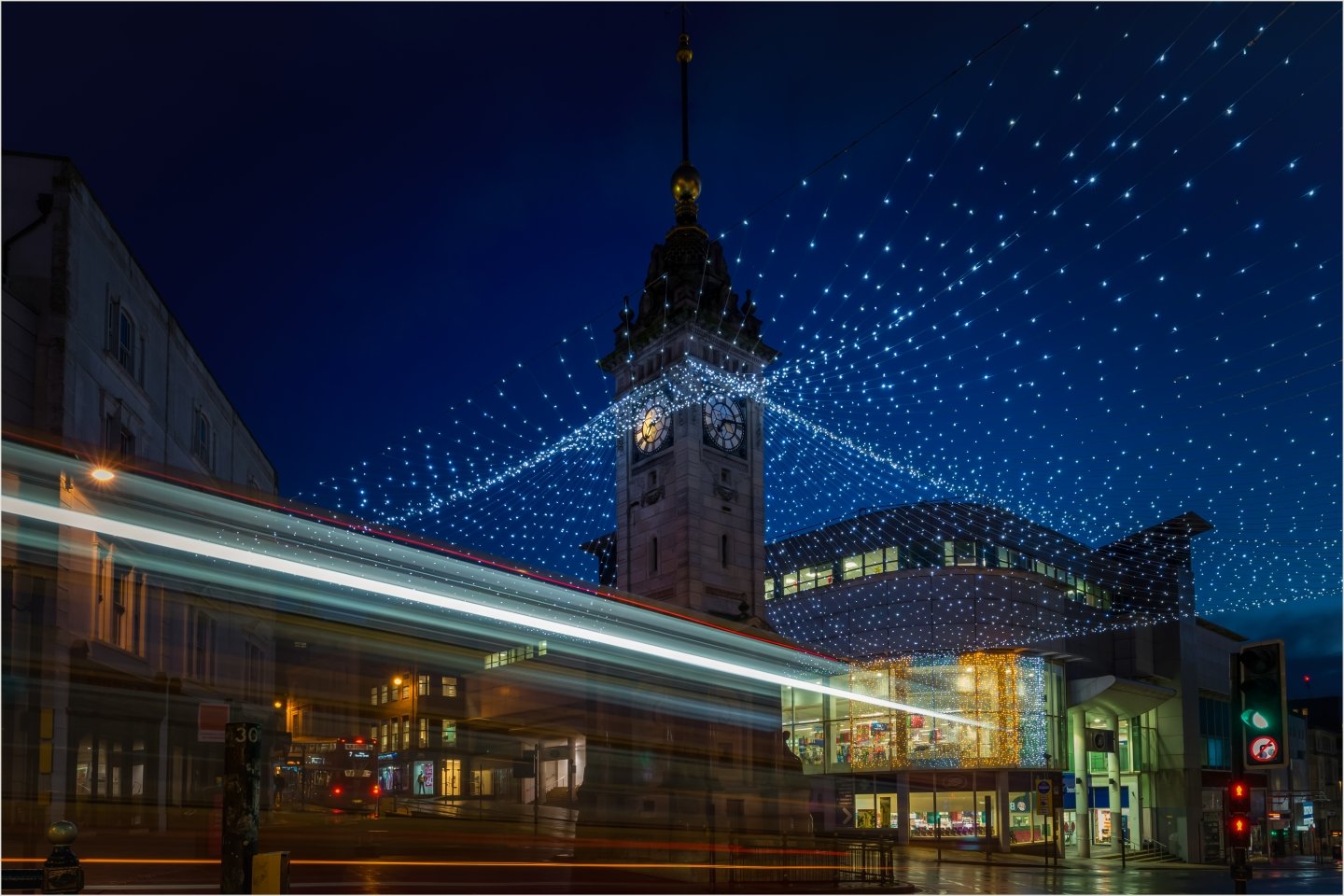 Chris R – Brighton's Christmas Lights
"What time was this taken at Chris?" asked yours truly…somewhat unaware of the clock face in the middle!! The surprise (to me) is that this is at 07:15 am! A great long exposure with added bus lights and the web of lights hanging over the road is really well exposed.
And so to our winner, with an average score of 8.50: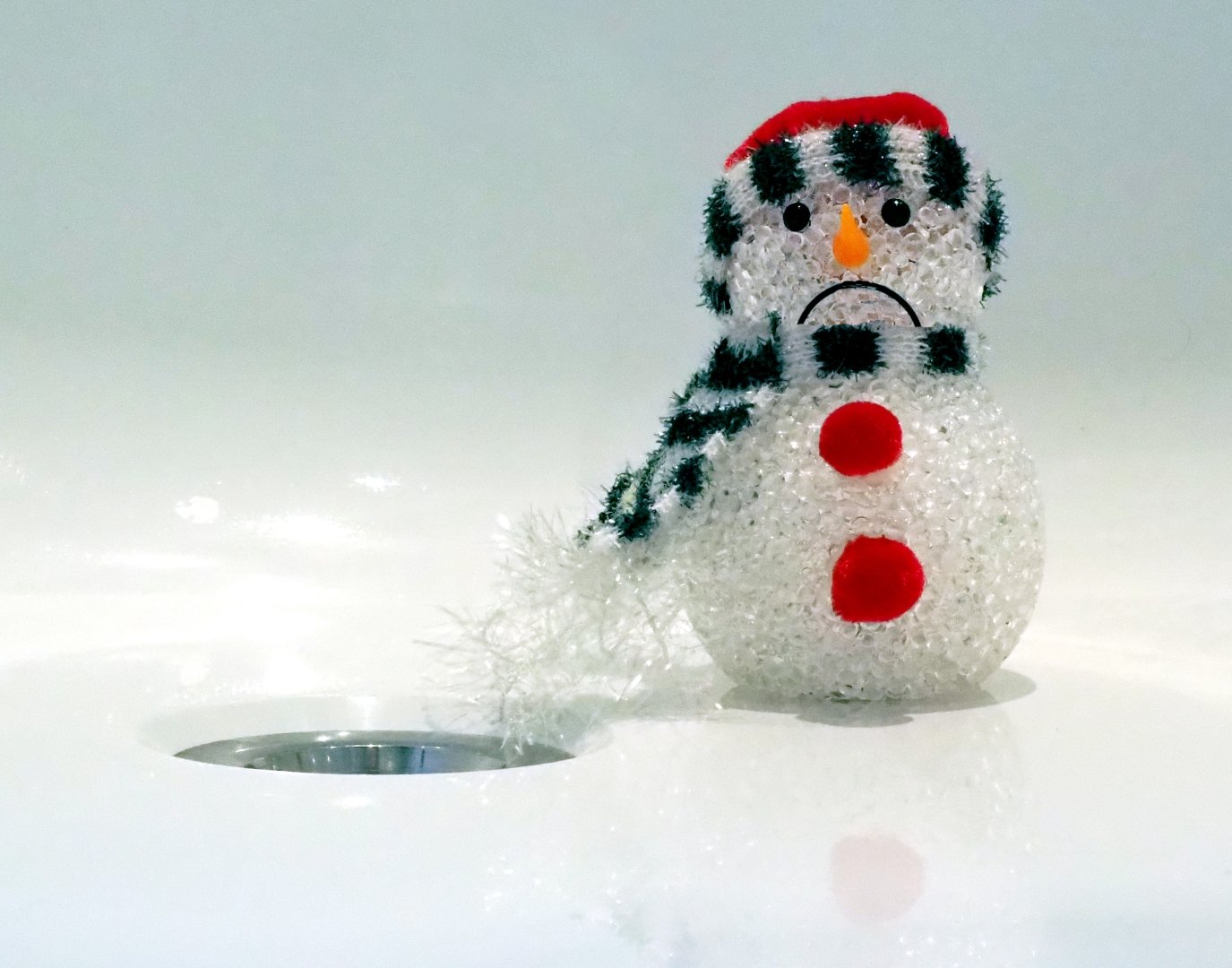 Dave S – Awaiting The Melt
Another terrific creation from Dave as he once again finds an unexpected use for a plug hole. All that is added is the frown on the snowman's face as he realises his time will end just like the Snowman on the telly…but probably without this one being able to ride a motorbike!
Well done Dave and thank you to everyone who entered and all who joined us on the night to look at and talk about all the images.
A very Happy, safe, peaceful and hopefully more free 2021 to you all.