A phantom photographer was seen loitering in Carshalton Wednesday evening identifiable only by his shadow cast by the setting sun. Who was it??? The first person to come up with who took this spooky photo gets an extra biscuit at teatime next week.
(N.B. Click on pictures to enlarge them)
The advantage of being in a group pointing your cameras at everything and everyone is that passers-by assume you are a bit cranky and take little notice. Try to do it on your own and people think you're some kind of pervert. So it was all very relaxed and enjoyable wandering around Carshalton ponds and The Grove snapping what took our fancy in the beautiful evening light.
I tried some slow exposures using a Big Stopper filter I bought on eBay, only to find most of them came out blurred however careful I was with the focusing. Closer examination of the pictures showed it wasn't the focus but camera shake. If you don't know what camera shake does, take a look at the enlarged inset in this picture.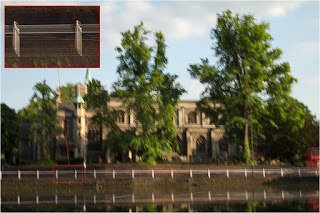 Notice the smeary doubling appearance indicating movement of the camera during exposure. Either the ground was shaking or it was the flimsy tripod bought for a couple of quid in a charity shop.
Since posting this Blog, Aodan has suggested the problem may have been due to leaving Image Stabilisation (IS) on. Canon recommends switching IS off when using a tripod, especially with older lenses, as it can confuse the system and make the image jump about. Thanks for keeping that one under your hat Mark :o)
Disenchanted, I went for minimalism and nailed it, don't you think, with this uplifting shot of a hole in a wall?
Then Mark appeared, a master of long exposures honed on the Northern Lights, to show me how Big Stopping should be done using Lee filters and a carbon fibre tripod. Not on the cheap then! Watch and learn Diddy, watch and learn…
His photo of the waterfall in The Grove is a real stunner.
And this one across the ponds shows how moving traffic just disappears if the exposure is long enough – in this case 95 seconds.
Mandy homed straight in on the wildlife capturing this shot of a heron sweeping along the river.
As the light faded, we all drifted towards The Greyhound for a drink and a congenial chat, rounding off a very pleasant (and for some, hopefully, rewarding) evening taking pictures.
The evening was marked by the return of an old friend, Aodan, back today and at last from his eighteen months in South Korea. He looked none the worse after the long flight once he had reacquainted himself with the flavour of English beer. Welcome back Aodan, we missed you.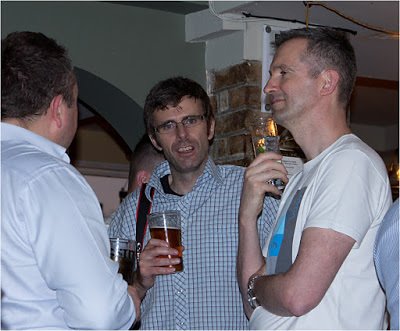 No doubt you are all now rifling through the pictures you put into our competitions this season to find the best two to put into our Print and PDI of the Year competitions next week.
Adhering to the KISS principle (Keep It Simple Stupid!), we will not be asking you to resize your PDI entries to take best advantage of the higher resolution of the new club projector. We will stick with the 1024 x 768 pixel limits. Next year, however, the maximum dimensions will change to 1440 wide x 1080 high.