Don't be fooled, this is about far more than only horses!
One upside to using Zoom as our platform for the club during these times is that we can look further afield for speakers and presentations.
Our first real foray outside of the world South of Watford took us to Yorkshire and we were provided with an evening to remember by Jane Lazenby BA (hons) Fine Art, QTFE(2), ASEA, LRPS, CPAGB, BPE3, EFIAP, LMPA (all these are at time of writing…she may well have more this month!) who presented her "From Paintbrush to Pixels" talk.
Jane's websites are perhaps only a glimpse into her photographic styles and methods – "AWARD WINNING YORKSHIRE PHOTOGRAPHER WITH AN UNIQUE ARTISTIC TWIST" is one description but there was so much more for us to enjoy throughout the evening as we heard about Jane's first steps into painting and travelled with her on her journey to and mastery of digital photography.
I do not intend to detail all of Jane's talk but what shone through was the sheer passion and creative mind she has developed over time. From being allergic to horses and then falling in love with them and taking up painting to being unable to spend time in a darkroom due to reactions to the chemicals involved but persisting with photography and being released by digital cameras, Jane has taken herself onwards and upwards with an extraordinary range of skills and a determination to succeed.
I doubt there is anyone out there with Photoshop who hasn't looked something up in a book or online but Jane sat herself down and simply got on with it, to such an extent that she has created her own textures, used to magnificent effect in many of her images. All these are anchored in her own history and her love of all things equine and how these colours blend into the landscape.
You see above the impressive set of letters after Jane's name. Well, to my amazement, Jane admitted she is still "surprised" at her success and that each achievement is seen as a step to the next one. When you consider that she only started with the LRPS in 2017 – and that step was taken just three weeks after joining a new camera club, following five years at her old one – her awards and determination have taken her not even four years to achieve. I can only say thank you to all those who have recognised Jane as the wonderful artist she is.
Then we see her work and understand that she is not only the person taking the photograph – all manually I have to add – but she is just as often her own creative director, scene designer, costumier and has provided a virtual story for her models to take into the image, giving the resulting work a tale that the viewer can empathise with.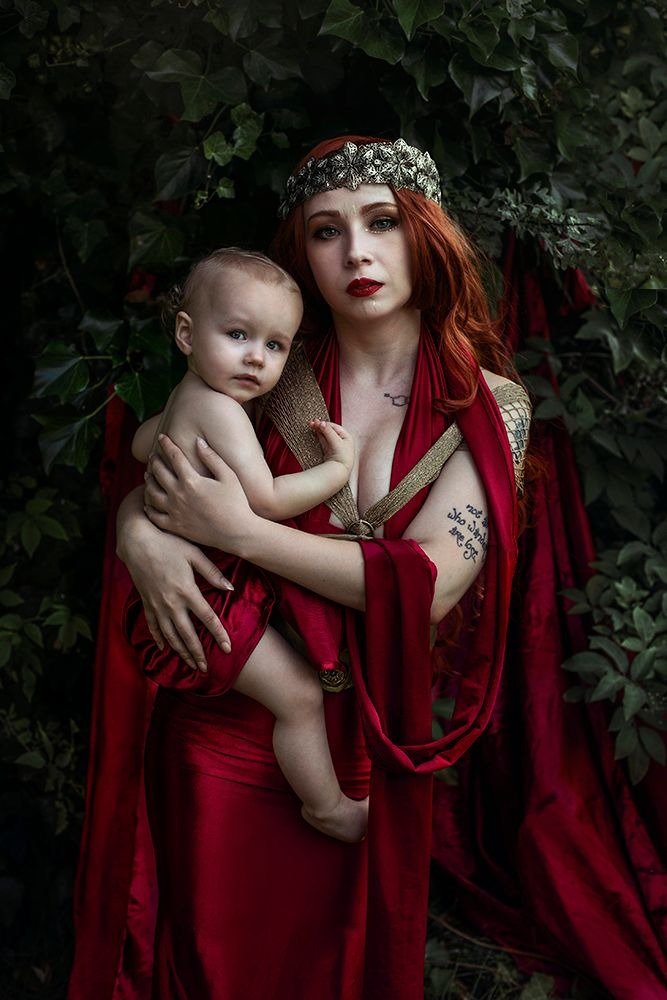 Jane gave us the background to so many of her images and how they are always being inspired by the painters and artists of old, especially the Pre-Raphaelites. But there is so much more and Jane never seems to have taken a decision that wasn't going to provide her with a further artistic area to explore and work with when creating her images.
Jane's daughter has also been her muse in many of her most successful images and it is a real sign of a good relationship to hear that the payment method is in the currency of KFCs!
The ability to find opportunities is another skill for Jane and she has worked her way into all areas of the equine world through connections – with lots mentions of the stunt boys and their stunt horses. Jane then showed her directing abilities on the sets, e.g. when asking for the horses to "play dead", often creating moving images that cry out to be looked at when you would not necessarily want to.
So many of her images are lit like paintings and again, here is another of her skills in the textures and blending methods she has honed to perfection within Photoshop.
I could go on for some time but I think her work is the best thing I can point you to at this time. Jane's websites are here:
https://www.ejlazenbyphotography.co.uk/
I cannot end without mentioning Jane's comments on what she has encountered when having her images judged in her local camera club. What really resonated was that good old comment often heard about the image being staged or taken in a studio setting. The following image drew that comment from one judge: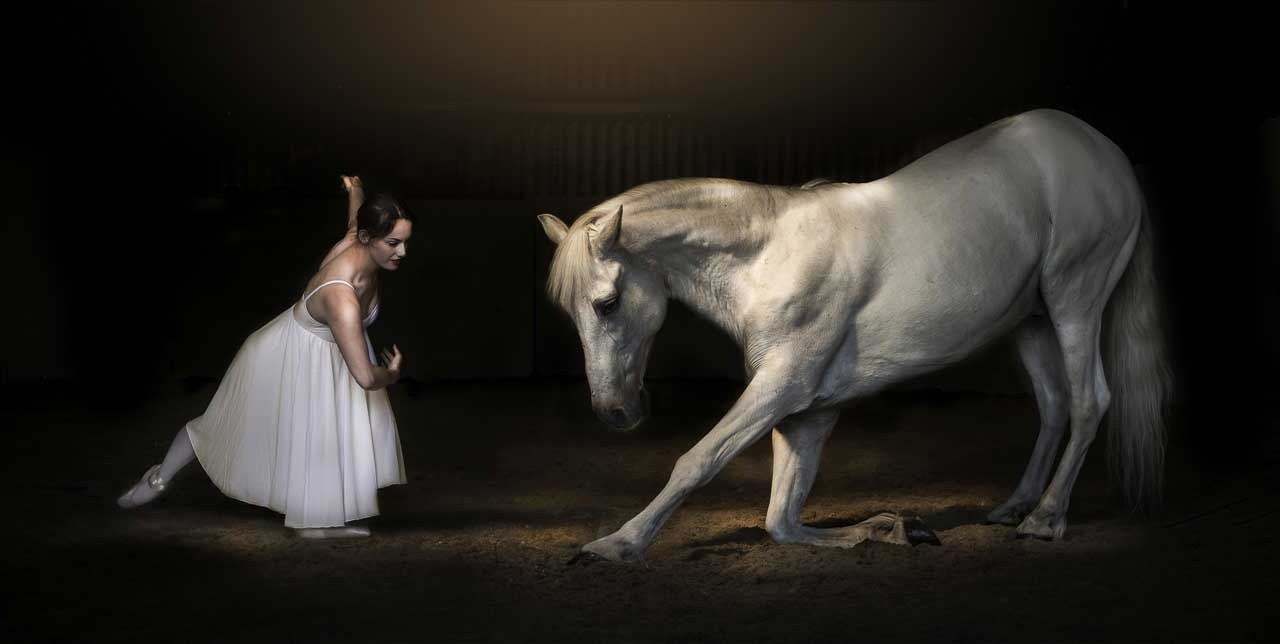 But for our benefit, Jane shared a shot she took of the scene from the other side so that all could see the ten other photographers pointing their cameras into the stable to try and capture the grace and beauty of the horse and ballerina.
Suffice to say, looking at the comments and feedback from our members, Jane gave us all a presentation to remember so a huge thank you to Jane for finding a couple of spare hours in her busy schedule. Here's to seeing her again.
All images above are copyright of Jane Lazenby