We can all learn from the experiences of others and the idea of this evening was for members to show images they had entered in competitions this year and explain how they achieved their results hoping that others might pick up a tip or two.
David P kicked off the evening spending an inordinate amount of time explaining how this picture had been put together.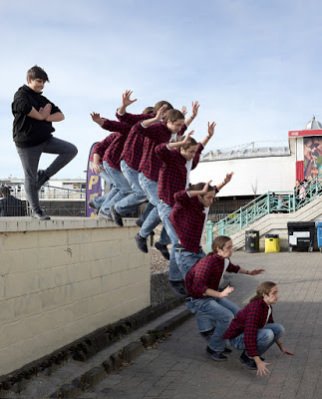 It was achieved by combining a series of 8 shots taken with the camera on motor drive.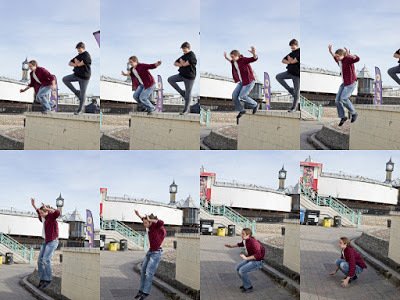 PhotoShop's Photomerge feature was used to collect the individual images as layers in a single document, aligned by content, much as a stitched panorama would be. This clip shows the Photomerge dialogue box and the steps in the procedure.
Each figure has to be cut out from its aligned layer with a selection tool (a time consuming process), then copied and pasted on separate layers above the aligned layer stack in the correct order.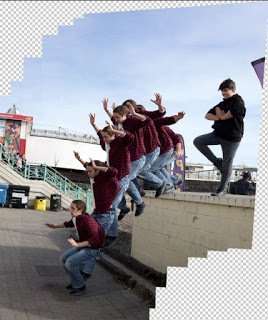 Finally, the picture was flattened into one layer and cloning and content aware fills were used to repair missing parts of the picture, which was then cropped and flipped horizontally.
By this time some of the audience were clearing their throats and looking at their watches. Oblivious to the hints, David insisted on following this with a tutorial on the use of the Quick Mask to make accurate selections.
Next Graham showed us a beautiful photo taken from a cliff top in Cornwall.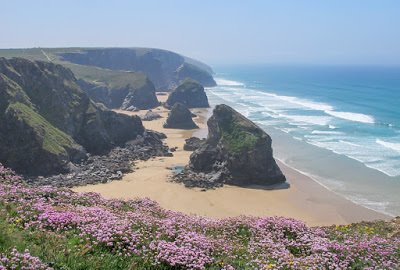 He was disappointed at the low score awarded for this image and wondered what he could possibly have done to improve it. Mark tried adding a mist effect and boosting vibrancy in the flowers but nothing seemed to improve the original shot. Perhaps there was something in David H's comment that perfect though the picture was, it was the kind of image that wouldn't be out of place in a travel brochure and that many judges expect something a bit more from a competition entry.
Then Dave S discussed the methods he used for three of his entries that he also felt had been given disappointing scores by certain judges. In the most dramatic transformation he had turned a mediocre daytime shot of a steam train into a night shot, magically infusing the picture with a warm, glowing light from the firebox. What powers Photoshop can give us in the right hands!
'And God said, Let there be Light: and there was Light.'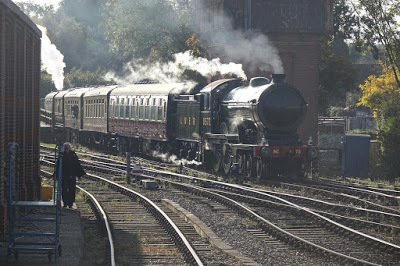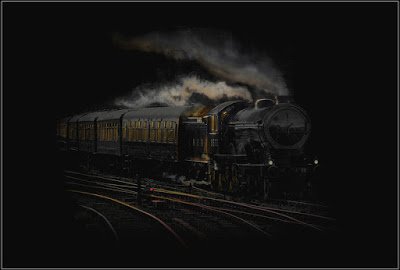 Then David A. showed his winning picture taken of The Old Man of Storr on the Isle of Skye on New Year's Day. Getting the exposure right in a shot taken directly into the setting sun is difficult. The camera's calculation of exposure is thrown by the brightness of the sun causing under-exposure of the landscape, in this case making the details barely visible. Taking the picture in RAW format helped as it allowed impressive recovery of shadow detail using RAW conversion software – in this case, DxO Photolab. David said that he did appreciate that using a graduated filter might have helped balance the exposure between sky and land.
Compare this with the Graham's landscape above. Think about which one you prefer and why.
Finally Mark showed us the Lightroom adjustments he'd made on two pictures he had taken on holiday.
Mark used a stopper filter to smooth the waves in Sunset Over Archway Islands, New Zealand and wondered if the filter had desaturated the colours a bit.
His Lightroom adjustments are shown below. He commented, 'I can't remember what order I did them in, but my general approach is to just fiddle around with settings until I get something I like .. probably 20 minutes work on this. The three "Delete Adjustments" are local adjustments to the rocks (lifting the shadows a bit to bring out the detail) and to the coloured part of the sunset (boosting the orange and pink and adding a bit more contrast to the clouds).'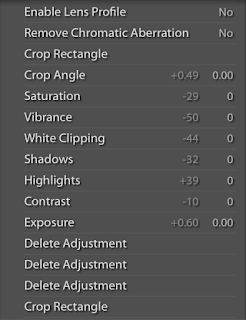 Evenings like this do give an insight into other people's working methods and thinking processes so I do hope everyone found it as interesting as I did.