This was first of two presentation evenings in this year's programme in which PhotoCraft members give a mini-talk on a subject of their own choice.
Brenda opened the evening with some pictures she took in Malaysia, a favourite holiday destination her family have visited several times. It started in Malacca, a quirky town with wall paintings on some of the buildings, and in the side-streets, small businesses – a shoe shop selling little more than red sandals, a pet store (at least, I hope it was a pet store!) with the owner happily hosing out the cages with the animals still in them. The chickens looked a bit bedraggled, poor things. And a grimy barber shop with the client stretch out on what looked like a dentist chair.
Barber shop Malacca
In contrast, in a trip to Cameroon Highlands we saw spectacular waterfalls, wild animals, exotic flowers and extensive tea plantations.
Anyone know what this magnificent flower is?
The tea pickers live in simple shacks. Even the bosses lived in what looked liked Nissen huts.
Finally, Brenda took us to Penang. The overall impression was of a poor country and this was exemplified in two photos, one of a luxurious cruise ship moored at a lavishly built dock, and not far away a pier built crudely from sticks with the simple boats the locals used.
The whole area of the South China Seas is a fascinating part of the world. A couple of years ago I read 'The Malay Archipelago' by that great Victorian zoologist Alfred Russel Wallace, a book that turned David Attenborough into a naturalist. His epic explorations of the region studying the flora, fauna and inhabitants are a riveting read.
Next, Philip gave us a talk entitled 'One day… Three Countries. Sunday – a photo essay'. Ask most people if they want to know how people spend their Sundays in different parts of the world and you'd probably get little more than a shrug. I have to say that it is a credit to Philip's absorbing photo essay that I found it a lot more interesting than I thought possible.
It was a master class in how to produce a photo essay, showing meticulous planning, collection of the photos and interviews, and all cleverly put together. It was hard to believe that all this had been accomplished with just one weekend spent in each of his chosen locations – Poitiers (a historic French city), Forano (a hill village in Italy) and Harris (a Scottish island in the Outer Hebrides).
The talk was divided into sections each concentrating on an activity. I won't list them all but they included such topics as 'Shut down', 'Travel', 'Sunday market', 'Church', 'Sunday best', 'Eating', and 'Out together'. Each section was preceded by quotations from interviews Philip had carried out with people in each location about their feelings and attitudes on what Sunday meant to them.
Illustrating 'Sunday market' was an iconic image of a teenage girl 'praying' to her mother to let her buy a dress she wanted; her mother stood, hands on hips, clearly not having any of it!
Sunday market, Gavignano, Italy
In the 'Eating' section, I suppose it wasn't surprising to see how in France, the home of gastronomy, they indulged themselves on a Sunday.
Sunday lunch, Poitiers, France
Philip's concluding observation was that in Britain, present attitudes to Sunday are making it a less distinctive day. Perhaps the camera helps us to see what we are in danger of losing and we could usefully borrow some aspects of Sunday from other regions before we lose them altogether.
Ceylon was once described as 'the pearl hanging from the ear of India' and after seeing Jenny's photos of Tasmania I couldn't help thinking this island in a similar relationship to Australia. Jenny spent a holiday here with relatives who live there, and what a beautiful country it is.
We started in Hobart, the capital, which is in the temperate most heavily populated eastern side of the island. Much of the architecture is in the British colonial style of which there are many examples. The British settlers were ruthless in all but wiping out the aboriginal people from Tasmania. Large prisons were built to house local undesirables but mainly for expatriated British criminals. Jenny showed photos of one such site, now derelict and a tourist attraction.
From Hobart she went to Queenstown whose main street looked a bit like something from the Wild West – without the horses. Not many people about, she commented – perhaps they were all in the slammer! Her talk took us to a number of tourist locations which included some caves with massive stalagmite formations, a mill driven by both windmill and a waterwheel, and an iron bridge (Albert Bridge) over a river leading to a spectacular gorge.
Much of the island is preserved as national nature reserves and she took us to the western side which is warmer and wilder. A conservation area called the Bay of Fires had pure white sandy beaches with granite rocks made bright orange by a lichen growing on them – a landscape photographer's idea of paradise.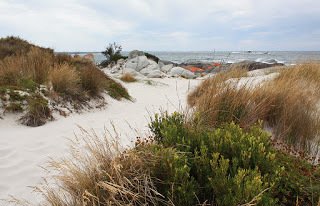 The Bay of Fires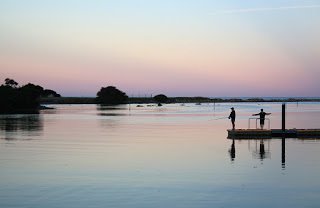 Sunset Tasmania
Thanks to Brenda, Philip and Jenny for the trouble you all took to share your adventures with us. Member mini-talks are a new venture for PhotoCraft, and judging from how interesting and entertaining it turned out to be, I can see them becoming a permanent feature in future programmes.