We welcomed David Mendus back to the club for our first Mono PDI of 2018/19.
David opened by telling us he has stepped away from his judging affiliation with the SPA. Whether by coincidence or because David felt suddenly freed from the constraints of following the SPA judging guidelines (I will make a guess at the latter), this writer felt that the evening gave us some of the most consistent comments and scoring across our offerings that I have heard from any competition evening.
David did not give any new, startling insights into mono photography but he did offer many useful nuggets of information that provided good insight into what makes for successful work:
Use the right image if you are editing to mono
Be careful when cropping and watch what is on your edges
Keep a good balance across the frame and make use of the whole frame
Do not overdo post-production
I felt all the comments translated into marking that was always relevant to what was said about the image on the screen. As we all know, we have had many judges that say a lot about an image but then give a mark that bears no relation to the comments made or give marks that vary wildly between similar images.
Enough of my opinion, onto the selection of winners.
Level 1 gave us 20 entries, six held back and three 10s awarded. David was extremely complimentary about what he saw, saying he could see the message each image was giving and enjoying the stories behind each one.
In first place, congratulations are due to Darren M with "Just Looking"
David loved the close-up expression and personality that shone from the subject's eyes.
Darren achieved his second 10 with "Girls just want to have fun"
Again, David really enjoyed the humour in the image and could see everything had been captured to show the "fun" in the title.
Our final 10 in Level 1 was from Alan M with "The Morning Catch"
The tranquillity and mist in the image really impressed David and he paid special attention to the top of the frame with the trees receding into the mist.
Onto Level 2, where we had 30 entries. Eight were held and three 10s awarded.
David P scooped top place with "Adolescent Angst"
David (judge) commented that this image captured the girl's expression so well and as with the Level 1 images, the story was clear. It was a rare thing to be able to get an expression that gives so much in an image.
To follow Level 1 even more, David P mirrored Darren M with his second 10 being awarded for "Dying for a cuppa"
The expressions of the three people in the photograph all engrossed in making tea caught David's (judge) attention. Another great example of one image giving so much to the viewer.
Our third 10 went to David H with "Motherhood":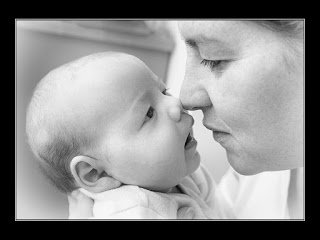 David (judge) viewed this as a perfect example of the bond between mother and child, something that can be very hard to put into an image. David H captured a wonderful moment.
All in all, an enjoyable evening and an eye-opening insight into how a "free" judge can both express him or herself and give the marks to match!
See you all later in November!
Brian C