Our judge for the final contest of the year was Roger Mendham LRPS DPAGB of Bookham Camera Club. He began by saying that this was the fourth monochrome competition he had been asked to judge recently, much to his bemusement. He claimed not to be an expert on monochrome although he had been to several outstanding exhibitions of black and white photos this year and was beginning to appreciate it more. He had read the club's rules for monochrome which he praised for their clarity (they were actually lifted from the FSLPS rules!).
As there was not a massive number of entries, Roger was able to spend time considering and commenting on each print. For him, to get top marks the picture had to be sound both compositionally and technically. Failings in one or other would seriously reduce his scoring.
The winner at Level 1 was Steve with Gridiron, an exceptional, almost abstract picture of scaffolding, so congratulations Steve. Steve and Alan were neck and neck on the leader board, and so it remains after the final round – but Steve just pips it to the trophy by two plus points. What a nail-biter that must have been.
The 10+ at Level 2 was given to David P with A Space to Work, The Natural History Museum. Thanks Anne for suggesting Hogwarts as a better title.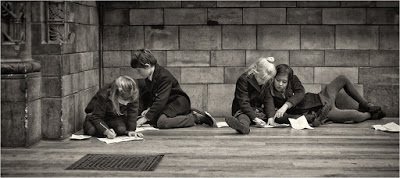 Congratulations to David H for the other 10, Head over Heels. Not the first very effective overhead shot from David I remember – has he invested in a drone, I wonder.
Apart from the winning pictures, there were two notable portraits at this Level.
The first, cryptically entitled Omani Scout, The Empty Quarter by (and of?) David H. The subject, whose turban and shirt looked sandblasted from many a desert storm, looked curiously familiar. Hmmm…
The second, Sleepwalker by David P, the judge turned this way and that under the light, I swear for a good 5 minutes, as he tried to work out whether the subjects eyes were open or closed. Frustrated, in the end, he decided it 'wasn't a good portrait' and gave it a token score of 7. It's included here for you to make up your own mind about the eyes!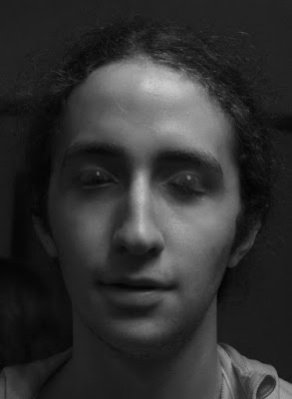 And now the painful part, offering my hearty congratulations to Brian C whose two 9.5 scores of the evening meant he had toppled me from the lead position and earning him the year's Monochrome Print Trophy. Well done Brian, and well deserved.
Some older club members may remember the person who donated this shield – Rita Smith. Rita was a lively and a lovely lady who made a great contribution to the club during the many years of membership. It was with great sadness that we learnt that she passed away this week at the age of 89. On behalf of Photo Craft, I would like to offer our condolences to her family and to the many friends who will miss and remember her.