The hall was 10C when we arrived and warmed only 1 degree from our own body heat by the end of the evening thanks to a lack of central heating. Rob Bonfield our judge from Woking Camera Club rubbed his hands together frequently while we sat in our overcoats, but he took it all in his stride. Rob may be relatively new to judging but I for one was impressed by his commentary on the pictures. Unlike some visiting judges, he was not fooled by some of the tricks we can get up to. For example, clinically eviscerating all the detail from an image to keep it simple can often remove everything that makes a photograph interesting – rigorous technical perfection shouldn't kid you into thinking it's a good picture! Neither was he impressed by self-conscious compositional 'tricks' to make dull subject matter more interesting than it actually is.
He gave the highest scores to ones that engaged our attention, taking us back to the time and place of the original event – and plenty of interesting detail to explore. Isn't this what is so wonderful about using a camera?
So congratulations to this week's winners for managing to achieve this.
At Level 1, Steve H. for Sleeping Gondolier, a delightful evocation of a quiet moment in Venice, a place now so packed with tourists that charging an entrance fee for the city is being considered.
The winner at Level 2 was Vive La France! by Brian C. I urge you to click on the picture to enlarge it to appreciate the masses of interesting detail throughout the image. Where is this stall – I just want to go there.
The other top score at Level 2 was Waiting around for the judge by David P. Rob did comment that the picture would have been better if one of the ladies had been smiling. I can confirm that none of them had anything much to smile about!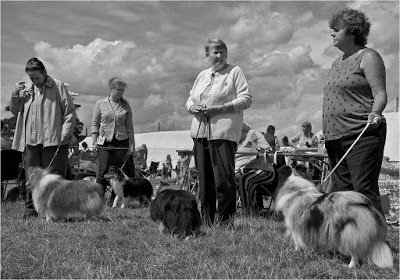 Rob is an SPA 'B list' judge. If it were up to me, he would be immediately promoted to the 'A list', but, ahem, he did give two of my efforts very good scores.
As this is the first monochrome print competition since the new 'Monochrome' rule was introduced at last year's AGM, perhaps I should say a word about the implications of the change.
In the last year or two there had been some confusion among members (and the odd judge!) about what constitutes a monochrome image. This may have been due in part to our competition rule which was outdated and ambiguous. A new rule aimed at clarifying the issue was agreed at the AGM last June:
6. Specifically for the Monochrome Print and Monochrome Projected Image competitions, the term monochrome means an image produced in varying densities of a single hue. Conventionally that hue would be a neutral grey, with densities from white to black. However, the neutral grey could be replaced by any single hue.
If you choose to colour-tone your image, think carefully about what colour to use. All colours have emotional value of one kind or another, so choose one that adds to the feeling you want the picture to convey. Sepia, for example adds warmth and, because it's associated with early photos, a sense of age. Blue toning cools the feel of the image and can work with snow or icy subjects.
The last sentence in the rule is saying that any colour replacement has to be applied right through the range of greys. In other words, split-toning is not permitted. Split toning is where, say, the darker grey tones are coloured but the lighter tones remain neutral grey. Be aware that pure black and pure white pixels have no colour value so don't expect them to show it.