Judge: Steve Lawrenson ARPS, APAGB.
Top knot, guide dogs, white sticks and the Shard.
Those are the words I'll remember from this weeks competition. This week's judge had a way with words that provided the entertainment of the evening just as much as the photo critiques.
There was even a bit of pantomime with the judge demonstrating an alternative crop on one particular photo, "Do you think it looks better without that man on the edge of the frame? Oh no it doesn't, oh yes it does." Well it's almost that time of year.
It just goes to show that sometimes the judge can point out some technical issues with the photos but there can still be more over-riding personal reasons for liking the photo that way. I guess that's the difference between the pure competition photo and the photos you want to keep for yourself, family and friends.
As for the competition, well done to John O the only entrant in Level 1 this week. And especially for stretching the judge's imagination to breaking point with your "Sunday Joint".
Top points in Level 2 were shared by David S and David P with Dave S "Framed" just edging the "plus" mark over Dave Ps "Stairway detail".
Framed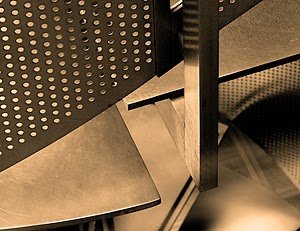 Stairway Detail
Just to explain,
Guide dogs and white sticks, Judge Lawrenson is realistic about how some judges sometimes make unusual choices when marking a photo.
Top knot, that little bit of hair on the top of a donkey's head, prompted by a particularly interesting study of a donkey. At least I think that's what he meant.
Judge Lawrenson does not like the Shard, in any shape or form. Be warned for next year.