Very few of us have any formal training in image editing. We choose our editing software according to what was fashionable at the time and our budget, and learnt how to use it in a fairly haphazard manner, probably picking up poor habits in the process. We finish up maybe with out-of-date software and our own ways of getting to where we want go and these habits become so ingrained by repetition and familiarity that it's very difficult to upgrade our routines to better ones. Evenings like this are put on to rectify that.
We began the evening with a brief reminder of what the rules for monochrome competitions are. They are more restrictive now than they were in the days of wet photography when techniques such as split toning and partial toning were permitted. Now, a monochrome image must be either neutral black and white or, if coloured, a single hue must be applied throughout the tonal range of the picture.
With everyone using their own workflows on a variety of software of different vintages, I find evenings like this one most useful for cherry-picking better ways of doing things than I use myself. Lightroom is popular with many people nowadays making me feel a bit of a Luddite sticking to PhotoShop. But as I said, you get stuck in your ways and the time and effort needed to learn how to use new software that may do little more than what you are accustomed to may not feel worth it.
Brian spent a good part of the evening giving us the benefit of his considerable experience with Lightroom by showing his approach to editing images provided by Anita, Vince, Alan and Chris R. He understood that it might be difficult for members to follow all of his moves over Zoom and urged anyone wanting more details of any of the techniques he described not to hesitate to contact him.
He has kindly supplied some links and comments to further information for those wishing to pursue any of the techniques he described:
Blake Rudis – f64 Academy: https://f64academy.us3.list-manage.com/track/click?u=26004c85dfc98935197022a54&id=987f08403d&e=235e03ba35
This is the Photoshop Action I demonstrated that has the four component parts to work on the colours within the image, even though it is a monochrome. The main link to this is via YouTube: https://www.youtube.com/watch?v=aSS1LU3yTDY&feature=youtu.be
You may need to "subscribe" to get the action if the top link above does not work directly but of course, once downloaded, you can simply unsubscribe.
For Lightroom, some good free mono pre-sets can be found here: https://www.freepresets.com/product-category/free-lightroom-presets/monochrome-free-lightroom-presets/
Here is one more Photoshop YouTube video link which may be of interest to members – titled "Dodge and Burn like Ansel Adams" – https://www.youtube.com/watch?v=sf_q2RgZwSs
A popular monochrome conversion tool is SilverEfex Pro. It is part of the Nik Collection, a suite of image editing plug-ins available for Photoshop and Lightroom. Nik sold the Collection to Google who offered it for free but it has since been acquired by DxO who charge for it. Chris R dropped a note during the meeting giving a link to somewhere you may be able to get an older version as a free download https://lenscraft.co.uk/photography-blog/can-i-get-the-nik-collection-download-free/.
I still use SilverEfex Pro as it has many interesting features that are easy to use. There are a number of presets for monochrome conversions and for imitating a range of film types. There is also a large choice of colour toning effects and border styles. Local variations of brightness, contrast, definition etc are made by adding 'control points' to the image and this works quite well – a bit like the adjustment brush in Lightroom. As Dave S pointed out, the software can sometimes increase the noise level so watch for that.
Graham gave a nice demonstration of the editing he used on a Scottish landscape using the adjustment brush in Lightroom. From members' comments, it seemed that not everyone knew of the Click… Shift/Click method he used to apply the brush to the stile struts in his picture.
Click… Shift/Click is a standard Windows shortcut. You may already use it to select a batch of files in a list. Click the first file, then Shift/Click the last file and all the files in between will be included in the selection. This shortcut works with the adjustment brush in Lightroom and most of the brush tools in Photoshop (Brush, Pencil, Clone, Healing, Eraser etc.). First adjust the size and feathering of the brush to suit the subject. Then Click where you want to start application of the tool and Shift/Click where you want it to end. The tool will be applied in a straight line between the two points. Very useful for example for removing things like telegraph wires.
Thanks to everyone who contributed to the success of the evening, and especially to Brian for giving us so much insight into his working methods. Here are some of the mono conversions that were shown on the night.
Anita's Tree
Mono conversion by Brian in Lightroom
Anita's Woodland original
Anita's Woodland converted with Lightroom and SilverEfex Pro
Vince's Cars original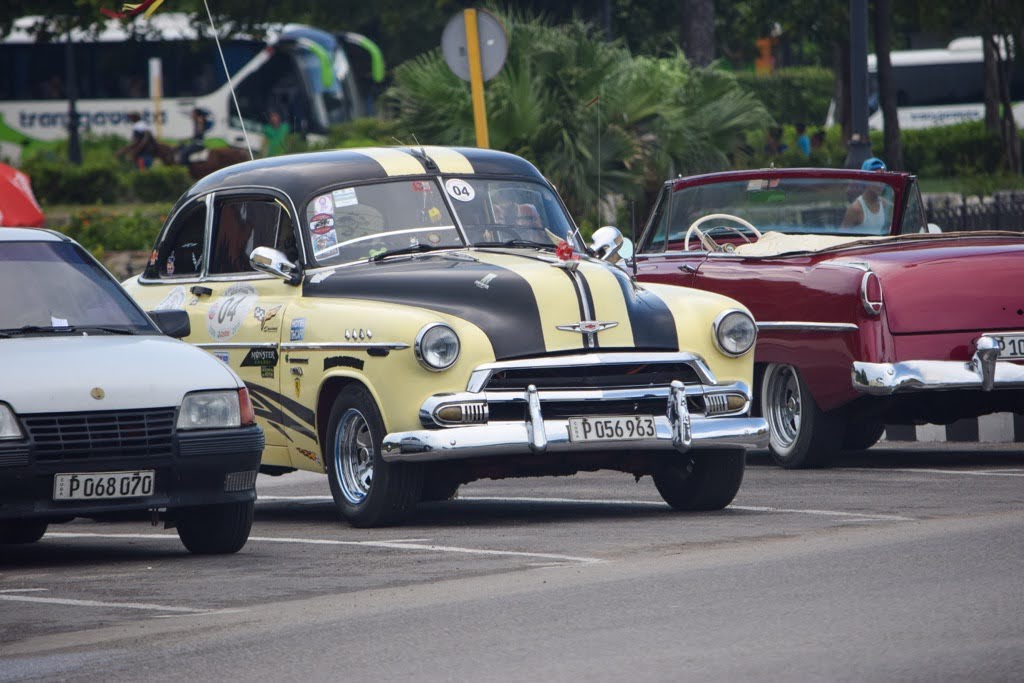 Vince's mono conversion
Vince's Car converted by Brian using Photoshop Action
Chris R's Dumbo original
Chris R's mono conversion
Chris R's Dumbo converted by Brian using Photoshop Action