The speaker this week, David Jenner, described himself as a 'creative landscape photographer'. I feel an eyebrow twitch when I hear photographers describe themselves as 'creative': we're all creative aren't we? But David's Night and Day panoramas were spectacular by any measure.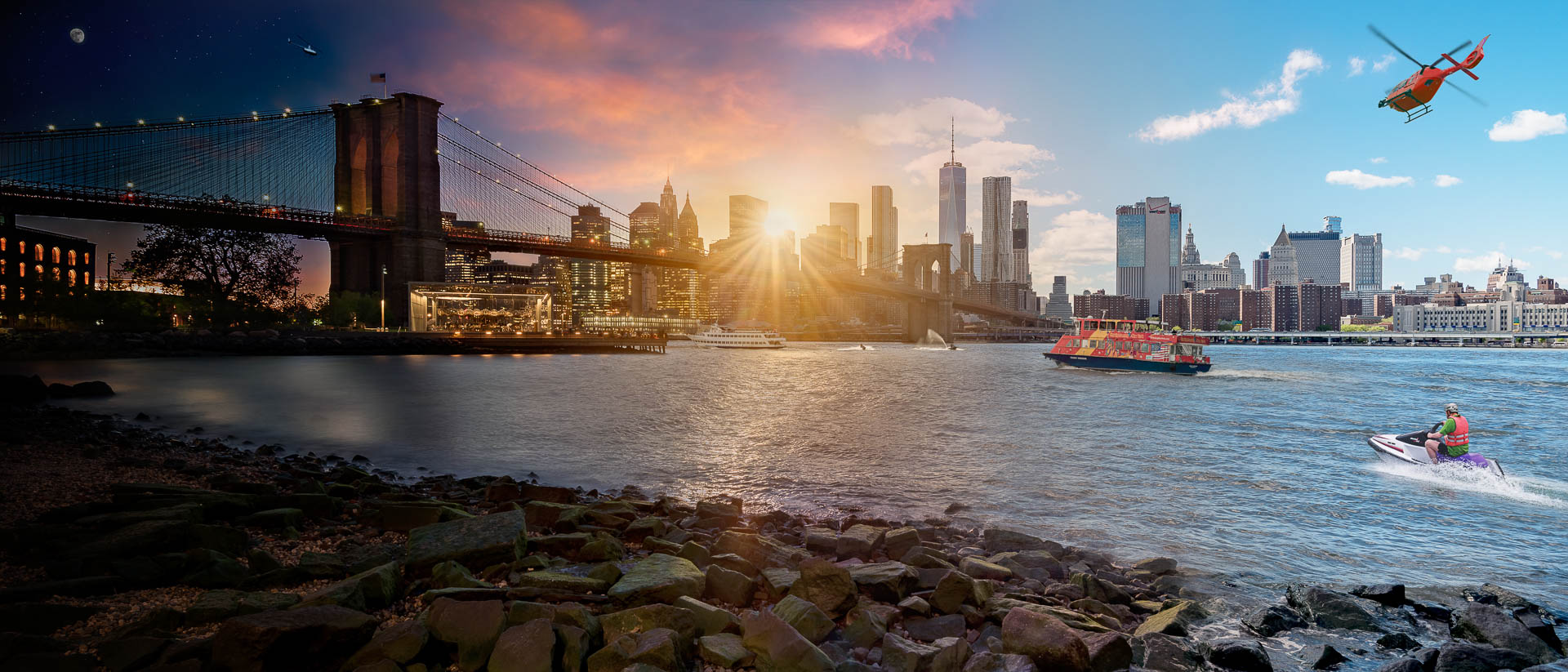 Manhattan Skyline
David trained in graphic design and, while still doing an apprenticeship in 1989 at the age of 16, set up his own printing company. With 20 years experience in photo-editing behind him, it was not until 2010 that he took his first panorama on a Nikon Coolpix camera. He took six shots at Canary Wharf in the 'golden hour' and stitched them into a panorama using Photoshop. From that point, he was hooked and developed a passion for wide format landscapes.
After buying his first DSLR, a Nikon D5000 with a Sigma 18 – 200 mm lens, he made his first serious attempt at a day/night panorama at the seaside town of Southwold in Suffolk in August 2010. The end of Southwold pier juts out to the side giving a view that includes looking back along the pier and provided an ideal spot to set up his camera and tripod. With camera in portrait format, he took 14 panoramas at intervals over 8 hours from daybreak to late in the evening, in all around 750 images. Disappointed that some of the shots were not sharp, he returned in September the same year to try again. A hard lesson learned – always review your images at the time you take them!
Then the real work began, stitching the panoramas, collecting them as layers in one file and applying layer masks to create a seamless transition across the panorama right to left from daybreak to nightfall. In total, the 8-bit file size was about 3 Gb. He now uses 16-bit which doubles the file size. It took David around 90 hours shooting and editing to achieve the final picture. Like Alfred Hitchcock, he likes to included a signature selfie in each picture he produces. Look for someone in a lime green shirt!
Much of the editing work involves restoring misalignments and aberrations to smooth the blending and produce a credible and pleasing image. For example, in his next project 'Metromorphosis' taken across the Thames in London, the changes in water level with the rising tide caused all kinds of misalignments. The Shard, behind Tower Bridge, was only half built when he took the pictures, but a quick consultation with the architects allowed him to reconstruct the building in Photoshop as it was destined to look. So quite a lot of jiggery-pokery like pasting in hot air balloons and the Red Arrows display team was involved, but as David said, if someone was prepared to pay good money for the artwork, why not include features that they might like to see.
The process reminded me a bit of how a painter would work, resizing picture elements and moving them around the canvas until they all slot together into a perfect composition. The locations of other night/day panoramas he showed included Venice, Durdle Door in Dorset, Hoo Marshes in Kent, Sydney Harbour, and the Brooklyn Bridge. We saw some of these images beautifully printed on aluminium panels by Whitewall.com.
Here are is a selection of some of his images:
Lulworth Cove
Little Langdale Light
Field of Fire
Tunnel o' Trees
Magnificent Red
To see more of his work, visit www.davidjenner.co.uk.
David admitted to a strong competitive streak which may have come from the fact that he is an accomplished snooker player. He doesn't belong to a camera club so is spared the delights we enjoy of having independent judges criticising his work. But he does enter national competitions and he spent the second half of the evening showing some of his other work, mostly landscapes and wildlife, and describing his (many) successes and failures.
His nemesis, it appears, is the BBC Countryfile Calendar Competition. The judging panel always consists of two males and one female member (nothing like a good gender balance is there?). The woman is always a celebrity such as Jo Brand, Janet Street Porter or singer Cerys Matthews (what do women know about photography anyway?). One of the men is a wildlife photographer such as Chris Packham or Simon King. The second male judge is always John Craven.
In most of these competitions from 2011 onwards, one of David's entries has appeared among the 30 or so short-listed prints on the judge's table where they pretend that they haven't already made their final selection and agonise about which 12 to choose for the calendar. Time and again one of David's photos can been seen on the table only to be picked up and tossed aside. At least he saw the funny side of it blaming it all on a conspiracy against him by JC. Finally, to his great joy in 2015, he had a phone call from JC telling him that his photo 'Where pixies roam' had made it for the calendar cover (based on a public vote), only to be told that actually, it was the back cover.
Where pixies roam
This all made for a highly entertaining second half of the evening, and let's face it, to have been short-listed so many times in competition that attracts over 50,000 entries is an achievement to be proud of. Not perhaps a 147 but pretty good going.
Thanks David for giving us a treat of an evening enjoyed by everyone.