So last Saturday five intrepid Photocraft members set off to represent the club at the Surrey Photographic Association's annual Individual Print and PDI competition in East Horsley.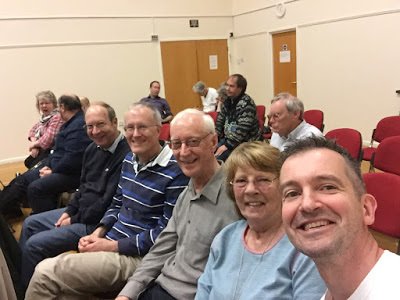 Still smarting from last year's complete failure to print home any bling, the heat was well and truly on, with competition new boy Philip clearly not wanting to let the side down.
As usual, Mandy did her very best to send everyone home with a chronic case of diabetes, outdoing herself this year with a carrier bag full of goodies. Just like a dealer of less legal "recreational pleasures" Mandy pressured us to eat more sweets than our doctors or dentists would have advised .. to begin with I thought she was just being generous, but her ulterior motive became much clearer as the afternoon wore on .. but more on that shortly ..
Despite a good showing from the boys with 9 images scoring 10 or above (a good club picture typically scores 9 out of a possible 15) the afternoon undisputedly belonged to Mandy, who came away with not one, not two, but THREE medals: one best in class and two judge's choices!
Now we know why Mandy was so keen to empty that carrier bag! A very well deserved congratulations from everyone at Photocraft for a truly brilliant performance!
***** UPDATE *****
If you'd like to check out the winning entries, click here: http://surreypa.org.uk/?page_id=1171
And new for 2017, there is a "Judges Selection" section which features a three images from Mark and David P: http://surreypa.org.uk/?page_id=1235