This week saw the second part of this year's PDI competition. The judge, Don Morley provided plenty of robust guidance on the 60 images entered. As such, there was a bumper crop of high marks from the images he liked… And a fair few entrants who probably went home feeling they were robbed!
Salient points taken away from tonight can be boiled down to:
Stop being wordy with your image titles!
Think about using a larger aperture (smaller F number) when photographing wildlife to blur the background better
Consider whether the image would look better portrait rather than landscape
Leave enough space for the image to "move" within the frame – don't crop so tightly!
At level one, Kevin B emerged triumphant with his image Dahlia, narrowly fending off David A's Oculus: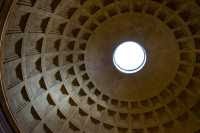 At level two, David H's Take Off took the winner's slot, ahead of Mandy B's Jay in Motion, David P's Aysgarth Falls, Martin F's The Observer and Dave S's Burgh Island Hotel: