'Virtual', but not 'Virtuoso', must be the verdict on this one, I think. On the plus side, the system did work with over 20 club members signing in and being able to see the entries for our 4th and final PDI competition using the online image platform Mark had set up, and hear the comments of our judge Bob Webzell ARPS EFIAP who had sportingly agreed to do the honours via a conference call. But there were time-consuming hiccups in importing the competition into DiCentra and interruptions in the conference call.
As a result we did only get through the Advanced section with the prospect of a repeat performance for the Standard class at the same time next week. By then, hopefully, we'll have 'squashed the sombrero' of the learning curve and it will all run nice and smoothly. So I should start with a big thank you to Bob for agreeing to judge for us in this way, to Mark for moving heaven and earth to set this up in such a short time, and to Brian for taking on the task of running the competition in this way for the first time with so many uncertainties. We'll forgive Mark for leaving his post at a critical moment to collect his Ocado delivery!
It can only get better!
This is an interim Blog which I will update next week when the results of the Standard class are available.
Congratulations to David J ('DJ'), a new club member, for being awarded 10s for two portraits. The first and overall winner of the competition was entitled Wedding. A beautiful young woman dressed in what must be a traditional wedding dress for perhaps a formal portrait in front of a patterned curtain. Bob said that he had seen wedding portraits taken like this in the Middle East. He said she looked demure, possibly pregnant, and with a sense of being subordinate. A very simple and thought-provoking portrait well deserving the top award
The picture reminded me very much of the wife in the Arnolfini Portrait by Jan van Eyck.
So homework for this week is to compare and contrast the two images. Answers in the Comments section please ;o)
DJs other 10 was for Beach, a picture of a girl with a surfboard at her feet, alone on an idyllic but deserted beach. She doesn't pose, or smile, looking almost resentfully at the photographer. Bob said the picture generated a sense of unease. It affected him emotionally which is what any good photo should do irrespective of what that emotion is.
Two outstanding portraits. Well done DJ and we will look forward to seeing more of your work.
Congratulations too to Dave S who also submitted two images scoring 10. The first, Late Night Tram, I think everyone recognised as one of Dave's masterly constructions. Bob had been supplied with the images in advance so that he could inspect them at high resolution. This gave him the added advantage of researching some of the images and giving him some insight into how they had been achieved. The building in the background he thought he recognised as Kensington House, but the destination on the front of the tram, Millerston, is in the suburbs of Glasgow, some 400 miles away – some tram route! Nevertheless, he really liked the image. Bob is clearly not a photographic purist and is quite comfortable with this kind of manipulated image.
For what it's worth, I'm 'old school'. I think the strength of the photographic medium is that it can fix a moment in time, forever. Once the boundaries between a photograph and a piece of graphic art start to break down, it becomes just another way of image making and it loses it's unique character. Guess I'm on the losing side on that one. Again, anyone with an opinion on this, please leave a Comment. If the response is good, I could set it up as a Forum topic.
Dave's second 10, Spots before the eyes, a photo of a ray of some kind with beautiful markings. It looked convincingly authentic but I'm too proud a man to ask whether any of the spots had been cloned in. Any comment Dave?

The final 10 was awarded to Rosh for Street Ballet. Bob commended the immaculate composition, the low angle and the perfect shutter timing with the dancer at the peak of his leap. Congratulations Rosh for a well-conceived and beautifully captured action picture.
So I leave you with three dots as I hope to add to this Blog next week when the results of next week's competition amongst the Standard class are available…
UPDATE
So having ironed out the teething problems encountered last week, the remainder of the competition for the Standard Class ran pretty smoothly.
Congratulations to our overall winner in this class, Chris R with Spring Flowers. Bob praised the competence of the photographer, admitting that he would struggle himself to produce an image of such high technical quality. And how nice to have such a timely reminder of the season when it's so difficult to take a walk and enjoy it.
Chris R also scored a 10 for Manhattan from Brooklyn Bridge. The city's skyline had been taken through the bridge's suspension cables from a vantage point where the road could be seen below. A dramatic and courageous viewpoint making for an unusual and interesting image.
Two other 10s were awarded so congratulations to Anita and Steve too.
Bob said that he had lost sleep over Anita's Looking Out. Why was the dog enjoying the view but the girl not looking interested? Was there a view to be looked out on and if so, what of. Were they at altitude on top of a cairn, or at ground level? A great picture that provided more questions than answers, and Bob liked it.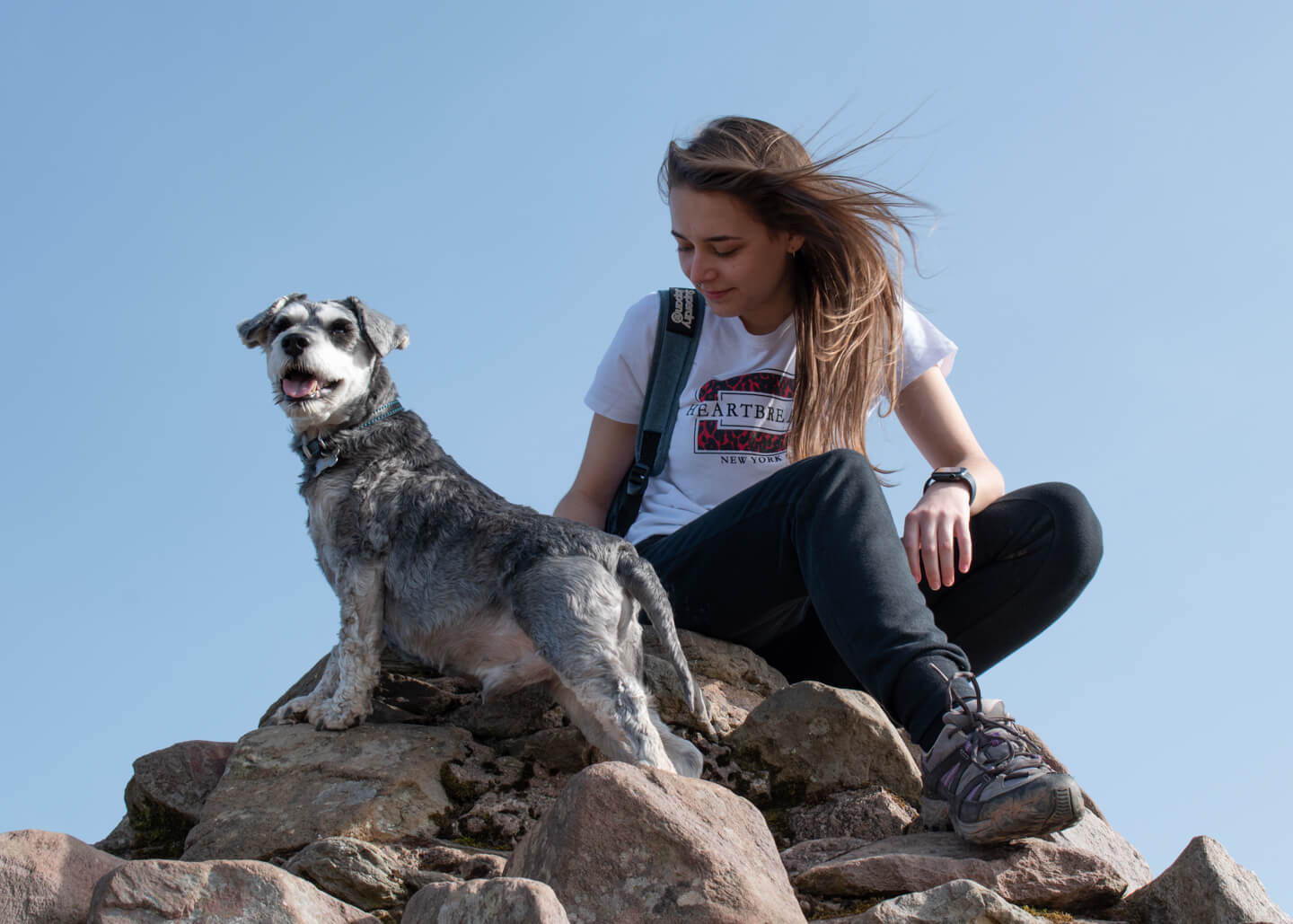 Last but not least we had Self Isolating by Steve H, a photo of a hoverfly hovering. Last summer I spent over an hour in the garden trying to nail a shot of one of these critters. You would think, as they hover, that they would be sitting targets. Not a bit. Before you have time to get them in the viewfinder and focus, they are gone. I gave up. So well done Steve to have captured such a sharp picture and, as the judge said, nicely placed in the frame.
After a break, Mark went through his re-jig of the club programme enabling us to continue with 'virtual' meetings to the end of the season. A copy of the revised programme should be available on the website shortly.
A big thank you to Bob Webzell for his time (two evenings instead of one) and for his expert and constructive commentary on our pictures. Thanks also to the sterling efforts of Mark and Brian in bringing the club meetings so effectively into our living rooms.