It was good to welcome Ian Brash from Selsdon Camera Club this evening, an 'A List' judge from the SPA and an old friend. This competition is the only one where everyone has an equal chance of earning a club trophy, irrespective of level. Up to two prints and two PDIs could be chosen from those entered in our competitions of the current season.
Everyone has their own idea of what makes a picture work and hearing someone commenting in detail about one gives us a rare glimpse into the mind's eye of another individual. So were there any take-home-messages from Ian's adjudications? A couple perhaps.
First, keep your picture as simple as possible so that the viewer immediately understands clearly what your message is. So should we have to clone out most of the rich tapestry we encounter in the real world from our pictures to produce a sanitised version of existence? A kind of escape from reality instead of a reflection of it. Or was there a hidden agenda here, like 'don't make me have to think too much to understand the point of your picture – I've a lot to get through this evening!'
Ian also advised putting a key line around all PDIs as this will clearly delineate your image from the black background. It will certainly help with some pictures but I think a key line is part of the body language of an image and whether you use one or not should be thought about. A key line is saying 'this is a composition I have extracted from reality and I have boxed it in because it is all I want you to consider'. But not using a key line is saying 'I want you to be aware that what I have captured is confluent with a bigger world so please don't lose sight of that context.'
You've heard enough waffle I'm sure, so here are the worthy winners:
The winner of the PDIs was Waterworlds by Martin F. An outstanding piece of candid street photography I would have given my eye teeth to have captured!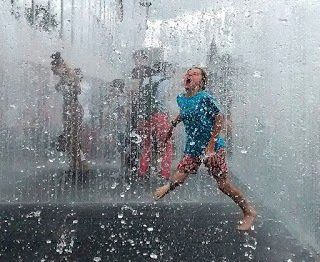 Ian awarded three Honorary Mentions so congratulations to them too:
Starlings, An Orderly Queue by Mandy. For the record, this was a straight shot. No smoke and mirrors.
They Who Served – Oxford Street by David H. An engaging study of Chelsea Pensioners on a bus.
The Outsider by Martin F. A picture that leaves the viewer to make up their own storyline.
The winner of the Prints was Robin in Flight by Mandy. A perfectly executed photo of one of the most technically challenging of subjects – small birds in the air.
Again there were three Honorary Mentions:
Return of the Cranes by Dave S. Ian said that he 'hoped the Cranes had been photographed like that', but knowing Dave we might suspect a bit of smoke and mirrors with this one.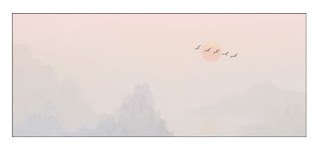 Mubarak-Omani Fisherman by David H. It takes bottle and good communication skills to take such unselfconscious pictures of ordinary people like this, the second from David to receive an Hon Men.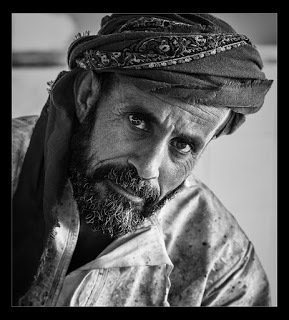 Events Noticeboard, Shanklin by David P. A cigar for Anne for being the only person yet to have got the title.
So that was it, the end of The Night of the Long Knives. A great evening and thanks again to Ian for helping bring our season's competitions to an exciting close.