Did you watch the series on BBC4 Britain in Focus: A Photographic History that I drew attention to recently? In the final programme, Eamonn McCabe interviewed a representative of photography today, a young teenage girl who used a smartphone to record her everyday life and communicate it with her friends.
If photography is about anything, it's about communication, and this kid (who came across as a pretty perceptive judge of what made a good picture) exemplified what I guess we have to accept is now mainstream photography. Good on the presenter for having the bottle to highlight it in a series like this. And good on Mark for giving us the chance to explore it in a semi-serious way. It would be nice to make this a permanent part of the club's programme.
We were allowed to enter up to 5 pictures each and a total of 61 were entered. OK, some people took the 'fun' aspect a bit far, but it was certainly interesting to see how individual members met the challenge. Members themselves judged the entries marking what they considered the best, and their second and third preferences.
So congratulations to Aodan who won both the first and second places. (When you going to stop gadding about in South Korea, Aodan – would it take a threatened missile strike from Kim Jong-il to bring you back?). Here are his winning pictures:
Fairground Ride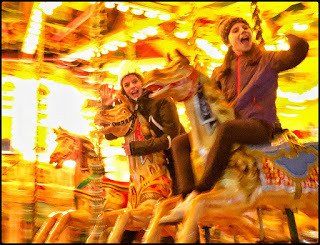 Autumn morning
The club's arch ruler-bender Dave S came third with his very loose interpretation of the competition requirements. It was called Mobile Phone Photo – Texting. How did the Easter Egg taste Dave?
At a recent buddy night, Philip drew attention to the App Snapseed and, although I missed his demonstration, I installed it to have a look. A number of members processed their images for the competition using Snapseed which is available for Android and iOS from the Google App Store for free.
It's a lot of fun to use and impressively powerful with many of the features you may be familiar with in PhotoShop, including content-aware healing and fine-tune contrast adjustments using curves. New tools are added as they are developed, by Nik Software I believe. Three appeared magically yesterday, one called 'Double Exposure' allowing the combination of several pictures and another which claims you can 're-pose' portraits, which sounds intriguing.
Philip was hoping to demonstrate the App after our competition on Wednesday but in the short time available wasn't able to set it up to project. If anyone knows how to 'mirror' a smartphone or tablet screen on a laptop, please let us know.