Our talk on Zoom this week was from Steve Radley, who opened the evening by outlining the various roles he has undertaken during his adult life. Very few of us can boast of a working life that has moved from farming to business, then ordination and enlistment as a military chaplain, then on to working as a professional photographer. More recently he has been leading retreats, encouraging people to find inner peace using the camera as a tool to mentally focus without distraction, and to see life in new ways.
Steve prepared a flyer outlining his talk to the club which is incorporated below, which sets out his experience and his vision far more clearly than my summary can achieve.
Photocraft Camera Club: Presentation Wednesday 24 March, 7:30pm
Summary of presentation:
Part 1: My story – the journey from the military to contemplative photography.
Steve will explore the journey he has made through life and his experience of 'Post Traumatic Growth'. The camera became a tool helping him to slow down and see life in new ways. This led to a passion to help others to see the richness and beauty of life in new ways. By living in the present moment, the way we see our relationships with one another and nature is transformed which enables us to meet the future with confidence – even a post-pandemic future.
Part 2: What is contemplative photography?
The root meaning of our word 'contemplate' means 'careful observation'. It means to be open to something in a non-judgemental way, letting go of our mental thoughts which can obscure our awareness. A camera simply receives reflected light, so takes nothing. Receiving the gift of an image allows us to see the world and its meaning with fresh eyes.
Short Biography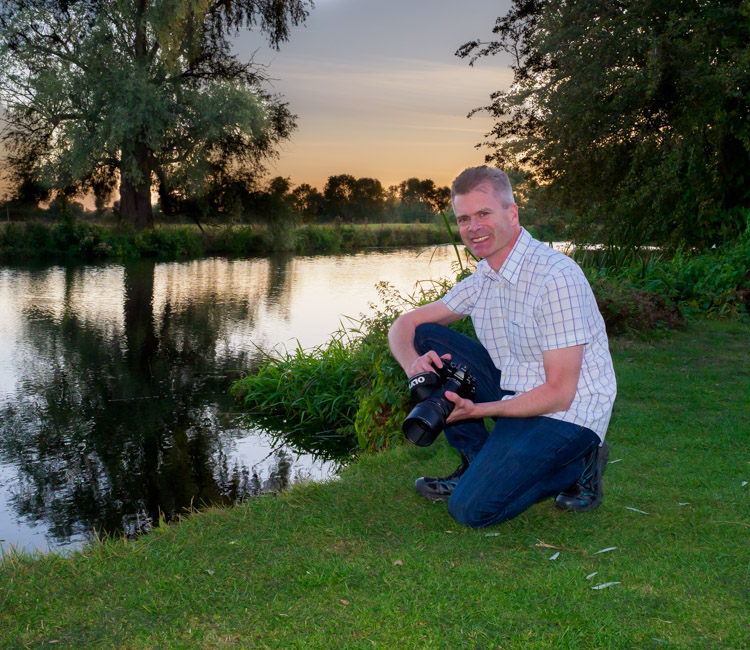 Steve Radley is an Anglican priest, retired RAF Chaplain, trained professional photographer, founder of Radley Photography and a members' ambassador for the Guild of Photographers. An Afghanistan veteran, photography helped him manage some of the anxiety he experienced following his exposure to war.
Growing up in the Lake District gave Steve a love of the outdoors, fell walking and nature. His working life has encompassed agriculture, estate management and business finance prior to ordination in 1996 and subsequent service with the RAF Chaplains branch.
Steve has a keen interest in spirituality and mental health having written a dissertation which explored the relationship between our mental health and our understanding of the world. He has been awarded a Bachelor of Theology by Nottingham University and Master of Science in Psychiatry & War by King's College London. He also holds certificates in counselling, business management and is a trained mental health first aider. Steve has personal experience of mental health having suffered from both depression and anxiety, the latter following his last deployment to Afghanistan.
Steve has led photography retreats for several years, establishing Soulful Vision in 2020 which brings together his study and experience with his love of photography. Through his workshops and retreats he aims to promote resilience by encouraging people to find an inner peace, using the camera to see life in new ways.
Steve's work was recognised nationally in 2021 when he was awarded the prestigious Amateur Photographer's 'Unsung Hero' award. 1 Steve has led retreats and workshops across the UK and Ireland including: Sheldon, Devon; Launde Abbey, Leicestershire; The Royal Foundation of St Katharine, London; Shepherds Dene, Northumbria; Cliff College, Derbyshire; & Manresa, The Jesuit Centre of Spirituality, Dublin.
1 https://www.amateurphotographer.co.uk/apawards/ap-awards-2021-our-unsung-hero-145779
Follow Steve @soulfulvision.uk: facebook ~ Instagram ~ LinkedIn ~ www.soulfulvision.uk
Stay in touch and receive ideas on contemplative photography: Join Steve's newsletter
During his talk Steve recalled the Expeditionary Training he received in the military, designed to increase personal resourcefulness. The mantra here was 'comfort – stretch – panic', with the purpose of the training being to enlarge the comfort zone and thus resilience of individuals so they are equipped to handle the stresses generated by the dangerous or otherwise challenging circumstances . One target of the training is to achieve focus on the present moment to keep you alive here and now, not to be distracted about what may be around the next corner until you get there and then engage.
Following several postings in conflict zones Steve took a Masters in Psychiatry and War after his own struggles variously with depression, anxiety and flashbacks .
When his enlistment was ending Steve took the opportunity to undertake resettlement training, taking a Diploma in Professional Photography, having had an interest in the subject since his childhood where he had access to a fully equipped darkroom. He found this diploma study to be very mindful, that familiar moment all photographers experience of waiting for that decisive moment, waiting for the perfect light, observing the texture of your subject, and just generally noticing life.
Steve also talked about Post Traumatic Growth (PTG) following his own experiences in recovery. This process can take much energy and struggle, but gives you an opportunity to grow as a person, and can lead to a new appreciation of life, personal relationships, and of personal strength.
Steve now runs retreats based on the topic of Contemplative Photography (CP), about letting go of the busy daily grind and pressures of modern life by focusing the mind on the beauty around us, and how the world will vary day by day. The retreat discusses how you see the world, not about the technical issues associated with the camera. Many photography terms have an almost military connotation; shoot, take, frame, etc.. CP asks you to see the image as a gift, not something to take. All the camera actually does is to receive reflected light for each picture. He encourages us to approach photography in a more mindful way in walking, noticing sensations (such as wind, sounds, breath), until you feel a connection with the place. Then you can take your camera from the bag and can receive an image.
Steve gave us many quotations during the evening, together with a number of other sources of guidance regarding mindfulness, and is happy to respond to any queries we may have via his Soulful Vision website. The quotations that most resonated with me were:-
"When our eyes are graced with wonder, the world reveals its wonders to us"
by John O'Donohue
Fear arises when we cannot see each other's world.
Really look at something – centering on the present.
In summary, an interesting and perhaps challenging approach to photography, very different to our normal fare, and all the more interesting for it.