A darkroom at home is an asset even in this digital age if you want to try light painting. But a hall the size of St Elpheges with the lights off turned out to be the height of luxury. The evening was intended to give members a chance to try some of the techniques described in Andrew Whyte's talk 'Chasing the dark' two weeks ago. Not only did we see some of his spectacular light paintings, but he unselfishly demonstrated exactly how he does it.
We began by trying to replicate his 'light spheres' using a torch on a piece of string. I rigged up an LED torch with a urine specimen pot taped to it as a diffuser. The yellow light, I hasten to add, was a filter stuck over the front, not the pot being second-hand!
When trying to capture moving lights against a dark background, it's important to understand that it isn't the shutter speed that determines the exposure. The shutter speed controls how much of the moving lights are recorded over time. What is captured depends on how bright the light is and how fast it is moving – similar to photographing fireworks. The only means you have of altering exposure is by adjusting the aperture. Your camera's light meter is no help and some trial and error is needed to get the aperture setting right.
The settings I suggested starting with were a shutter speed of 30 seconds (roughly how long I expected to complete the circle), or using the camera's 'B' setting. This setting will keep the shutter open all the time you keep the button pressed. An initial aperture setting of f/16 with ISO set to 100 was suggested as a starting point.
The next step is to focus the camera on the light using autofocus. Once set, turn the autofocus to Manual as autofocus may not be reliable in the dark and your camera may not even let you take a picture in this mode if it can't achieve focus. With your camera on a tripod, it's best to turn any image stabilisation off as it can result in blurring with some IS systems when the camera is stationary.
Andrew's technique was to start rotating the torch with his back to the camera and then to walk in a circle using a coin on the floor as a guide to keeping it spherical. I did my best with this and after a few runs I think most people got a decent shot. After that I tried walking about the stage swinging the torch at random, sometimes set to strobe.
By this time, most people were getting the hang of it I think and the rest of the evening was spent waving or moving a variety of exotic lighting devices about, either randomly or writing on the wall with them. Special thanks to David A who brought in some coloured laser pens to play with.
Thank you to those who sent me some of their more successful shots, a few examples of which follow:
A sphere (Brian)
Random swirls (Brian)
Strobe swirls (Dave S)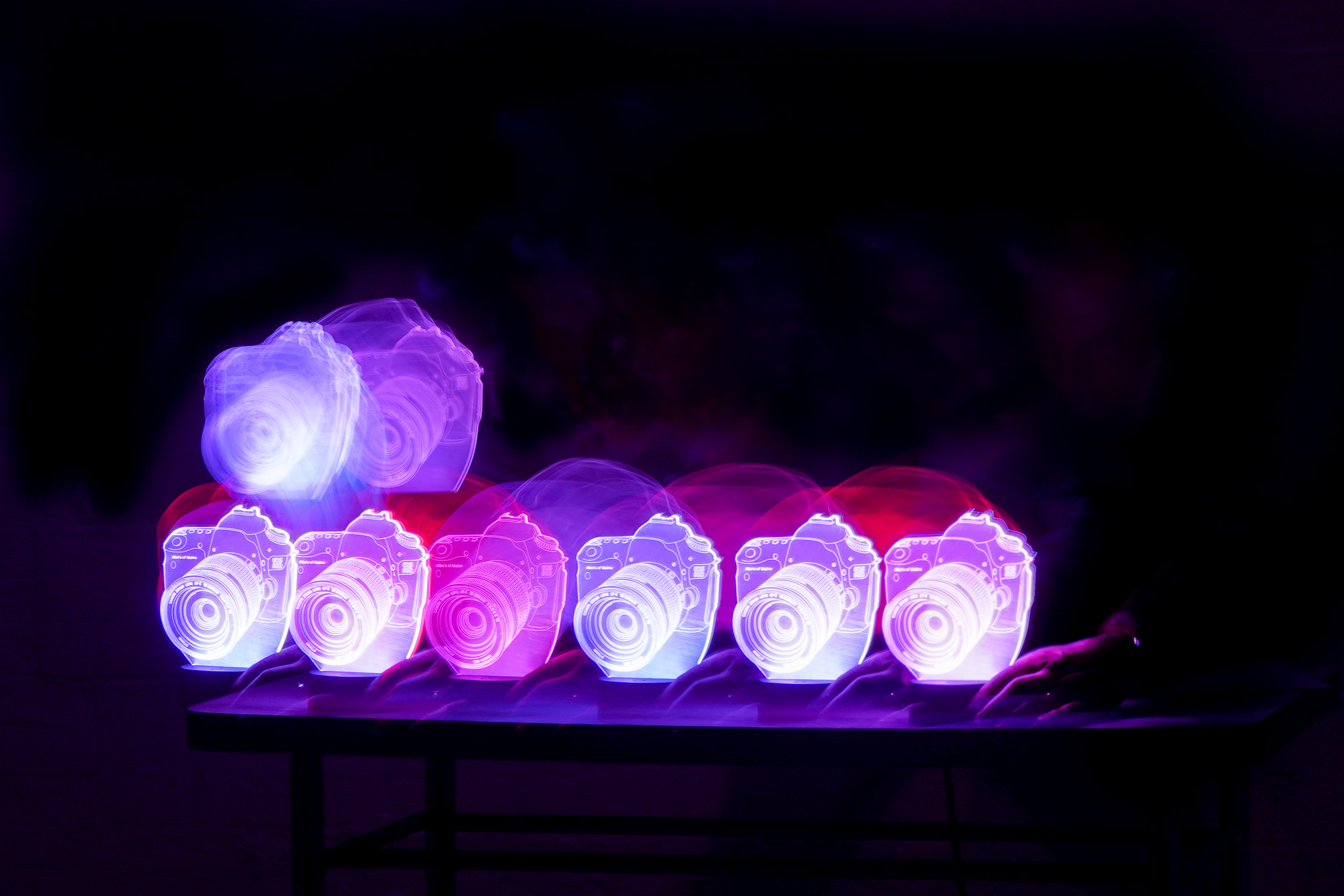 Brian's colour changing camera (Chris R)
Brenda's Xmas tree lights (Dave S)
Catch-as-catch-can lighting gismo (David A)
I would like to thank David A for The Writing On The Wall used as my blog cover picture. We had two prospective members visit the club on Wednesday who I noticed really got into the activities. I hope you enjoyed yourselves and hopefully we'll see you again.
UPDATE: SPA BIENNIAL EXHIBITION
Dave S has now received details of all the club's acceptances for the exhibition. Six PhotoCraft members submitted 60 images of which 20 have been accepted for display at Guildford. About 1800 submissions were submitted altogether from SPA member clubs of which only a quarter were accepted, endorsing Brian's assertion at our last meeting that 'Our club punches above its weight'!
So well done to the PhotoCraft members who entered (Mandy, Mark, David H, Dave S, Martin F and David P) all of whom had work accepted. Extra well done to those who received Highly Commended Awards for their entries (Mandy, Dave S and David H) and to Martin F for a Judge's Choice Award.
If you would like to see the exhibition, it's on at the Guildford House Gallery, Guildford High Street from 3rd to 25th April. The displayed prints are changed halfway through the 4 weeks of the exhibition. Hopefully all of the club's pictures will be on shown during the same fortnight; Dave S will let us know the details when he gets them.
It all made for a very enjoyable evening and maybe we could do something like it again. Brian has provided me with a bottom line for this Blog…