Our new season's programme pitched straight in with the first of our PDI competitions – so 'Hello Everybody!', and we hope you all had a good summer and plenty of opportunities to exercise your shutter fingers.
Our judge, Roger Mendham from Bookham Camera Club, took note of the fact that we had a number of potential new members in the audience (welcome to them and good to see you!), and began with a pep talk on entering competitions. He said it's pretty scary the first time you enter, but if you want to improve your photography, do it. Look, listen and learn, and you will surprise yourself with what you can do. But as Mark said, entering the competitions is voluntary so if you are a newcomer, there's no pressure.
By way of explanation to newcomers, we have two levels in our competitions. Unlike most camera clubs where you have to 'graduate' to the more advanced levels, at PhotoCraft you can elect to go into whichever level you are comfortable with. Level 1 is better for people with less experience and the judge is asked to be a bit more lenient and aim to make his comments as constructive as possible. Level 2 entrants will be given a hard time, so don't enter at this level unless you are pretty confident or feel up to the challenge.
Congratulations to our winners and well done to everyone who entered. There were 8 entries given the top score of 10 which is a measure of the high overall standard of the pictures submitted.
At Level 1, the ten plus was awarded to Graham's 'Morning Shard'. Roger said he had seen so many attempts at photographing this edifice and this was one of the best. To get the right angle, Graham had to hang over the edge of the platform with an oncoming train (we all have to suffer for our art!).
The other 10 was given to Anna's 'The light at the end of the passage'. A tough shot to get the exposure right with good detail in the brightly lit and the shadow areas.
At Level 2, the ten plus went to David P's 'Lavender'. Undeserved surely against such stiff opposition at this Level (ahem!).
Two of Mandy's wildlife shots got 10s. 'Brimstone butterfly in flight' – tough enough to get anything in flight let alone a butterfly, and still sharp enough to see its curled proboscis.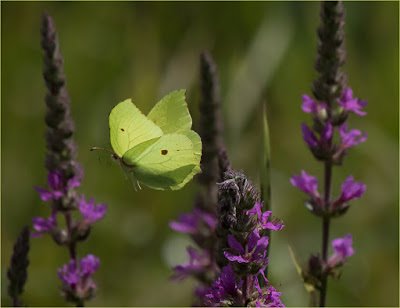 'Hairy Dragonfly' was praised for so much of the creature being in focus, depth of field being so difficult to get right when working close.
Roger said he thought Mark's photo of the Lincoln Memorial 'Lincoln by Night' was a most dramatic rendering of this iconic building. Mark says this was his first attempt at HDR being a combination of three exposures. Good attempt Mark (try it on flowers..).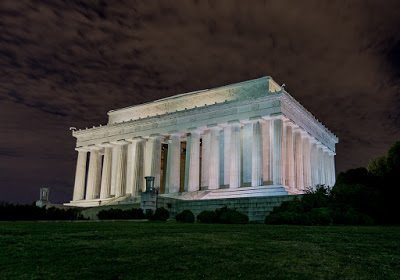 Contrary to popular belief, flower photography is difficult, especially if you want to try and bring something new in terms interest and composition. Dave S's 'Crocosmia' achieved both and also received a 10.
Using PhotoShop filters to turn a fairly mundane picture into a piece of 'photographic art' can be relatively easy to do so proceed with caution. Aodan used it to advantage creating a lovely blustery, autumnal atmosphere to his picture 'Autumn Lane' and received a well-deserved 10.
A great evening enjoyed by everyone.. the first of many to come.