As you may well have read in Mark B's excellent blog from a couple of weeks ago, several members went walkabout (and on the buses) in the wilds of Wallington and beyond on 13th September. It was a pleasant evening and we started in good light but it always disappears quicker than you think.
An opportunity for everyone to enjoy and vote on their favourite images from the hunt was our Zoom meeting last Wednesday, the 27th, and we had a very good evening, masterfully hosted by David A.
There were 15 categories and we had a varied number of images in each. A special mention to our (hopefully) newest member, Christine, who couldn't join us on the hunt evening itself but found the time to find some suitable images to enter – and took us to some rather nice far-flung places more than a few miles from Wallington!
It is also worth mentioning that we had a good mix of images from both cameras and smartphones. Can you spot those taken with smartphones?
And so to a selection of the images. Below are those that were voted first in each category. In order:
1. A very relaxing place: Chris R got this excellent monochrome of Wallington Methodist Church, just before the evening light dimmed.
2. The Biggest Tree: We had a few local ones, of course, but this one taken by Christine in New England was the favourite of the evening and it's easy to see why!
3. Something Shiny: Chris R saw the Mercedes parked and thought, "It's shiny!" He wasn't wrong and took the top spot here.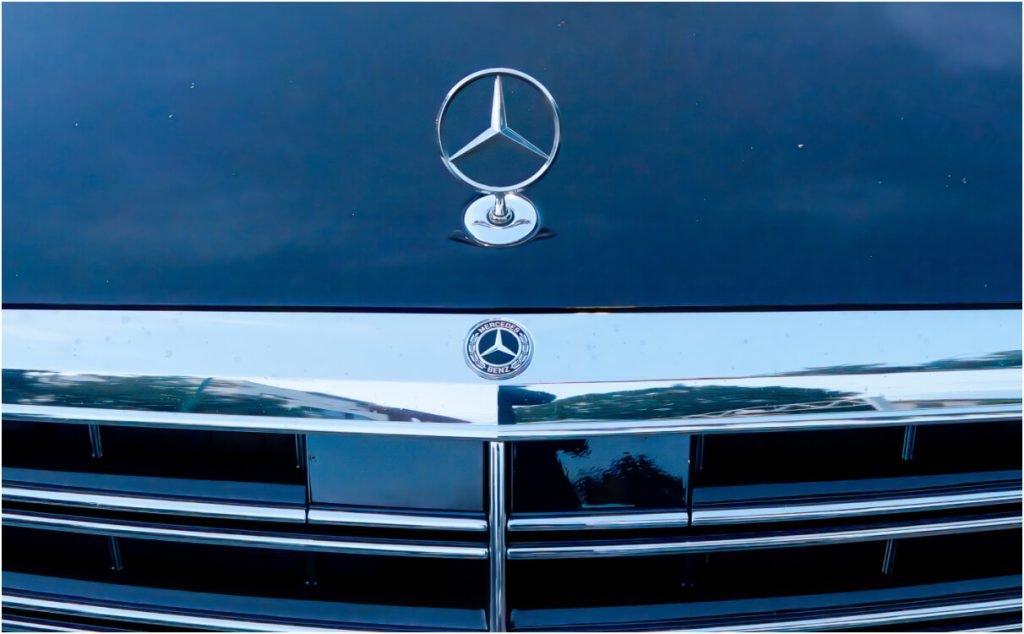 4. The funniest thing you can find: Our first tie of the evening with Brian C and Kevin getting equal scores. Kevin's shopfront scene is one of confusion and wit. Mine…. well, you had to be there to understand why I was at the bus stop but when I saw the poster! Well, it had to be taken!
5. Someone taking a photo: Mark B juggled his big camera and lens in one hand and his iPhone in the other to get this one.
6. The inside of something: A bus trip was a good way to get that bit further for some images and this one was taken by your blogger whilst inside a 157. Where's my right foot?
7. Something Red: We expected buses. We did not get any. Good. This fine image of the good old post box by Chris R was our winner here.
8. An Animal: A fine show of inventiveness and Chris R came out on top with this one of a peacock.
9. Your reflection in an unexpected place: Hair and Beauty are not what readily spring to mind for me so I thought this was a rather unexpected place to reflect on the evening so far.
10. Someone or something looking unusually small: Great creative work by Mark B! He says it took him "hours" in Photoshop. Worth the time Mark!
11. Something round: So many round things and a good selection were on display in the entered images. Mark B again saw a place with more than a few and took this winning shot.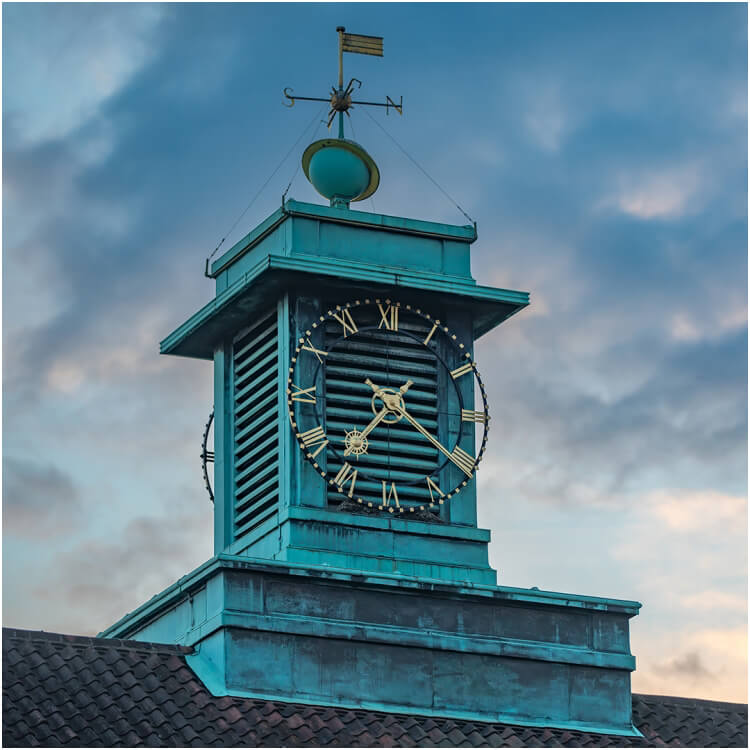 12. A shadow: Again, so many but what looks different? This one is the corner of an overhead tyre shop canopy on the left and me on the right, just turning so it's looks like a conversation is taking place. Chuffed to see this one top of the pile here.
13. Movement: We expected buses and streaking lights and we got them! A three-way tie! Chris R and Mark B took the cars and I caught the bus on the move.
14. The letter H: Sometimes there is too much choice and I think we all figured there would lots of "H"'s out there. I'm pleased to say my window one was top in this category and for me, it had to be shown in mono.
15. A group photo: Some fine images in this category and I was delighted to catch the rush of commuters heading down the stairs at Wallington Station.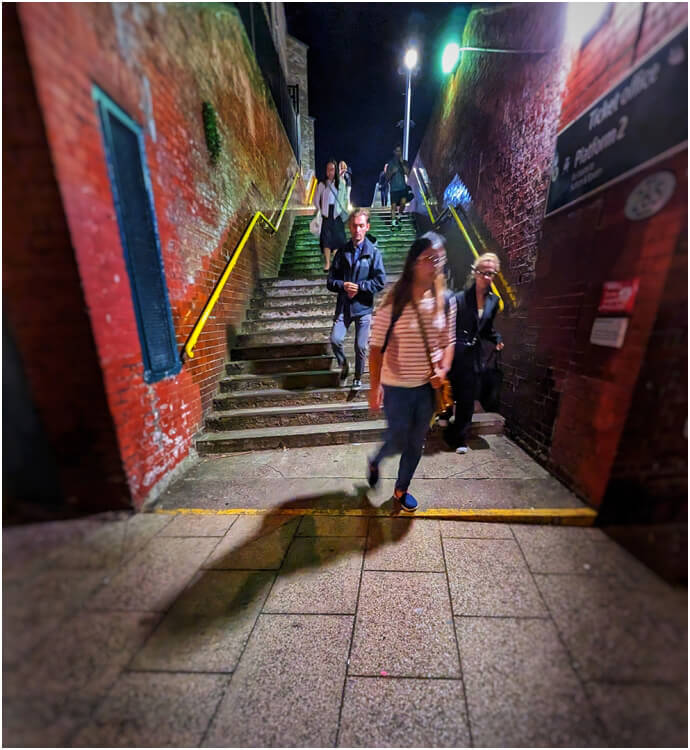 I am also pleased to announce that Mark B's photo "Mini Man" was the overall top scorer of the night! Well done and well deserved!
I think all those who were out that evening enjoyed the challenge and we plan to others – perhaps when the evenings linger longer.
Hope you enjoyed the photos! Thanks.