24 October | What Makes a Good Photograph? – Andrew Mills
'Some achieve greatness, and some have greatness thrust upon them…'. Tonight we were discovering some of the secrets of great (not just 'good') photos, with the help of examples drawn from throughout the history of photography and from many of its different genres.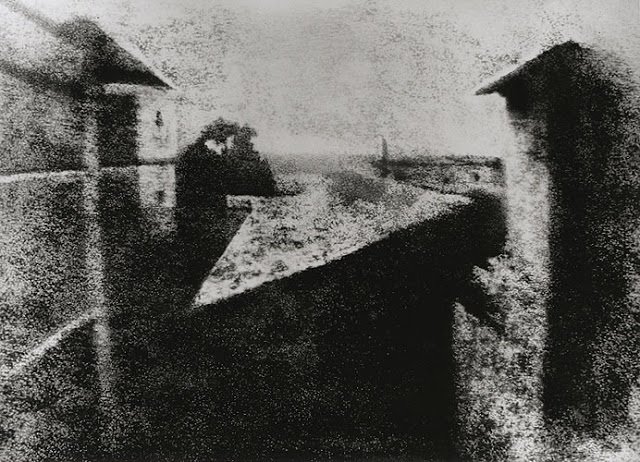 First photograph, View from the Window at Le Gras (Retouched), Joseph Nicéphore Niépce, ca. 1826
Gernsheim Collection, Harry Ransom Center.
Andrew Mills is a professional photographer, based in Southampton, who has specialised in advertising, editorial and commercial photography for over thirty years and has taught photography at degree level. He hadn't come to lecture us, though – just to get us thinking outside the conventional camera club 'box'. Andrew doesn't believe in the standard camera club. His own photography group, Phorum, has 'no competitions and each month there is a set theme chosen by the group, the results of which are reviewed at each meeting'. He acknowledged that judges wouldn't necessarily appreciate all the great photos he was showing us – because sometimes the genre was too eccentric and/or too many 'rules of photography' were being broken. I wonder what score anyone would get if they entered a 'foodscape' (inspired by Carl Warner's photography) in the next Photocraft PDI or Open Print competition? Perhaps I might need to eat my hat if it scored a 10!
I lost count of the number of photos in Andrew's presentation. It was a generous cornucopia of great photography. Some images were so famous that you recognised them immediately, but the beauty of the evening was that so many great images had been combined in a single presentation. Granted there wasn't enough time to analyse each and every image. Does that mean we were short changed? I don't think so. I suspect his approach was intended to be subliminal – fire enough highly varied images in rapid succession and you're bound to stimulate some new approaches and fresh perspectives!
Andrew summed up the evening with three headlines:
Be historic – remember to take some photos that document the present day: so that future generations can get a sense of what it was like to live in our part of London in 2018. (By the way, did you see this recent BBC article that compared two photos taken on New York's Fifth Avenue – just 13 years apart, but in other ways a whole world apart!)
Attend to light – for instance, never take a portrait with the sun immediately behind you.
Don't believe camera club judges* – get the confidence to make photos 'outside the box'.
Altogether, it was a breathless, but stimulating evening. Incidentally, one of the famous photographers that he referred to, Eadweard Muybridge (perhaps best known for his motion photos proving that horses have all four legs off the ground when they gallop), grew up down the road in Kingston and later retired there. Kingston Museum has a corridor-gallery devoted to Muybridge, including a large panoramic photo of San Francisco from 1878 – an immersive and truly historic image, as it shows us what the city looked like before the earthquake and fire of 1906. If you're in Kingston it's worth a brief visit.
(* excepting, of course, judges in our membership!)